Saturday 
The day has finally arrived, the day that puts an end to the longing. You're here! Whether you've travelled form far and wide or just from the neighbouring town, you'll be greeted by the team for check-in and shown to your tent so you can settle in and feel at home immediately. Saturday is chill day at the camp, since you won't have surf lessons yet, but if the journey here didn't tire you out completely, feel free to jump in your swim suit and make your way up to the beach, which is just a 5 minute walk away. 
In the evening, when everyone is here and we start hearing stomachs rumbling, we will all meet to have dinner together at around 8pm. Our dinners are always homemade and balanced to give everyone as much energy for surfing as possible. Are you vege or vegan or maybe gluten-free? Not a problem, just let us know before you arrive of any dietary restrictions and we'll make sure you never go hungry! An inevitable part of dinner is doing dishes, but hey, dish-washing parties are a thing! We'll get a speaker, blast some music and bam! Dishes done in 30 seconds.   
Because the camp is for you to enjoy and the team to help you, after dinner when your bellies are full, we'll sit everyone down for an info meeting to let you know how to make the most out of your week. We (the team) will introduce ourselves and tell you the gist about how things work around here. There aren't many rules, but the ones we do have are purely to ensure your safety and make sure you have a good time without upsetting the rest of the campers and other neighbours. You will also meet your surf instructors who will tell you all about the how and when of your lessons.  
If you haven't found any cool people to talk to by this point, you definitely will during our weekly round of hot seat. It may not sound like everybody's style, but with a beer or two usually everyone joins in. We know that the game was successful if nobody is paying attention to the 1 minute timer anymore and everyone is just chatting away freely, which happens pretty much every time. Some like to go out already on the first night, but most just go to bed in anticipation of the surf lesson the next morning and fall asleep to the gentle hum of the ocean. 
Sunday 
Sunday is definitely funday in Vieux. We know it's your first full day here at the camp, so we've jam packed it with activities for you. Wake up slow, grab some breakfast, coffee, make yourself a baguette and take some fruit and water for lunch. When you're ready, it's time for surfing! Depending on the conditions at the beach, your day will be spent between surf lessons, chilling at the beach and later, to relax your muscles – the daily dose of yoga. 
Surfing builds up the appetite even of the pickiest eaters, so in the evening you'll be served a hearty dinner to replenish your energy and get you ready for the volley tournament! During the day you can sign up to play, choose and name your team and then in the evening, if you dare, see if you can beat the teamer team!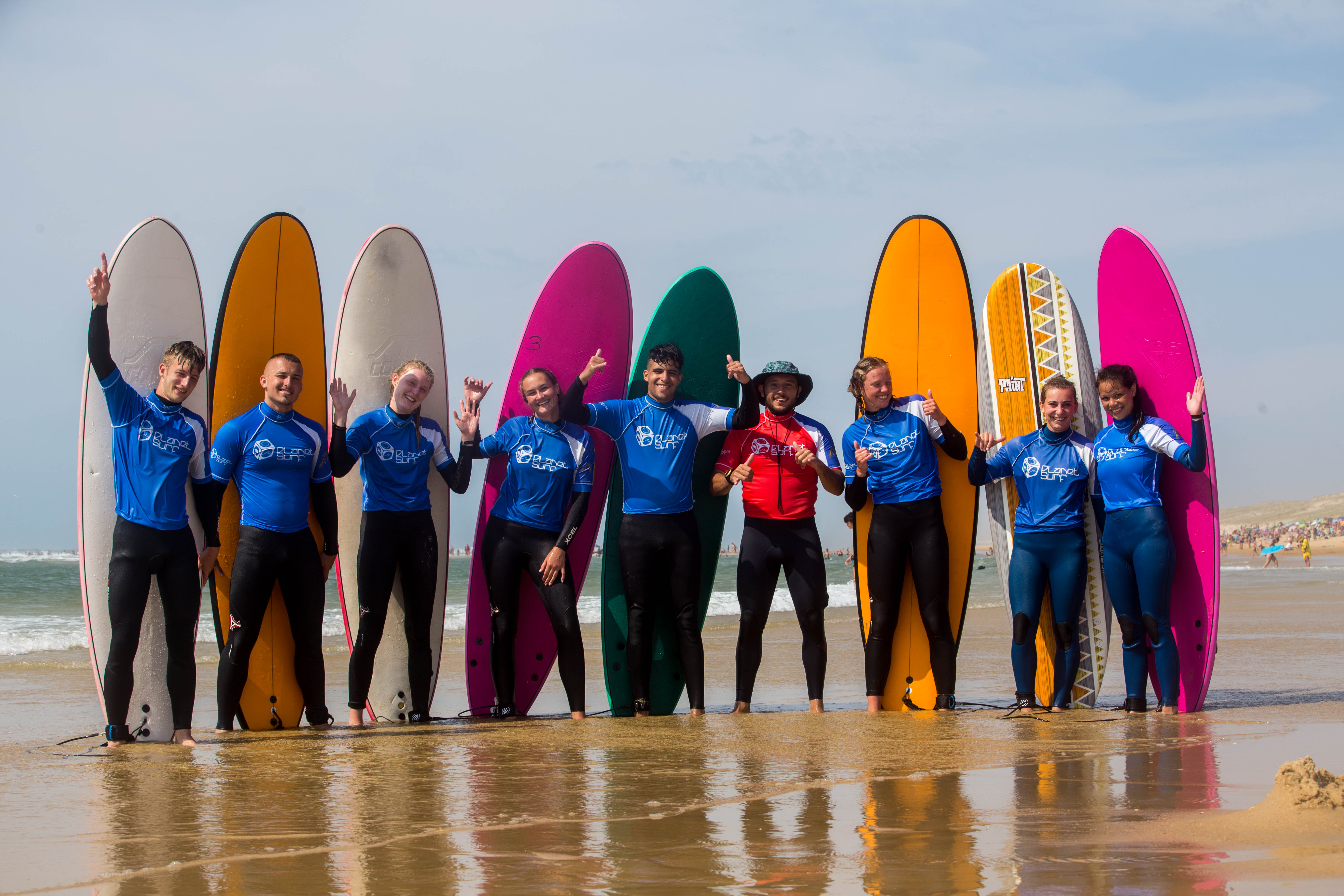 Monday 
The phrase 'eat sleep surf repeat' really does capture the essence of what you'll be doing here every day. After brekkie, just like the day before you'll go to the beach with the boards, have your surf lessons and later have the option to join the yoga class if you so please. However, just in case you think that the days are getting repetitive, don't.  
As part of your well-rounded surf education, the instructors will give one surf theory lesson for everyone, during which you will learn all about how to read surf forecasts, understand tides, winds and currents and know the rules of priority in the water.  
After dinner it gets a bit weird. Only on Mad Mondays in Vieux-Boucau you can find a male Mrs Santa Claus, a pirate of a Greek god walking around the campsite. On Mondays, the bravest of us dress up and play drinking games at the camp before shuffling away to our favourite local beach bar, Le Mojito. So if you're planing to come, bring your craziest costume along!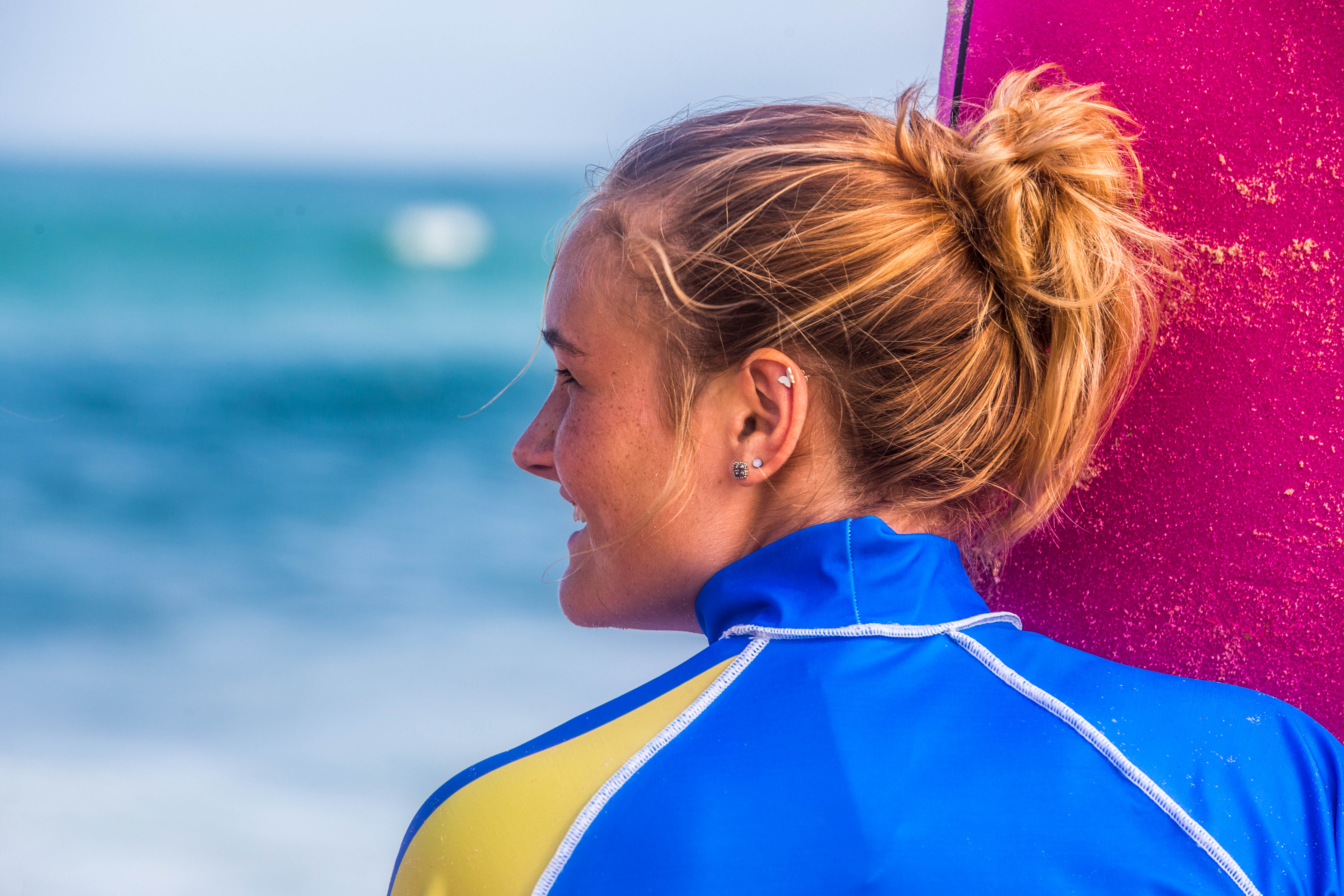 Tuesday
For those who still feel ready to party, we challenge you to round 2 – the trip down to Spain's coolest party city, San Sebastián. After a morning surf, a coach takes us to San Seb, where we will walk around discovering the beautiful city, have loads of tapas and sangria, watch the sunset together on a hill and then find an awesome place to party for the evening. But no worries, you won't miss your surf lessons the next day, the coach takes us all back to France around 1am.  
If you don't feel like coming down, again, no worries. You can choose to stay at the camp and chill here all day, and of course, you will still be offered dinner at the camp.    
Wednesday
Do you know what the best cure for a hangover is? Because we do, and it's surfing! There's nothing like the refreshing ocean water on your face after a night in San Seb, so we highly encourage you to drag yourself out of your tent and go to your lesson. Maybe even try to relax your mind with some yoga later on. 
Dinner will be served as always and then, if you're still up for it, round 3! Wednesdays are big nights at the Mojito bar where we all go to dance like crazy to the music of Blue Funkt band every week.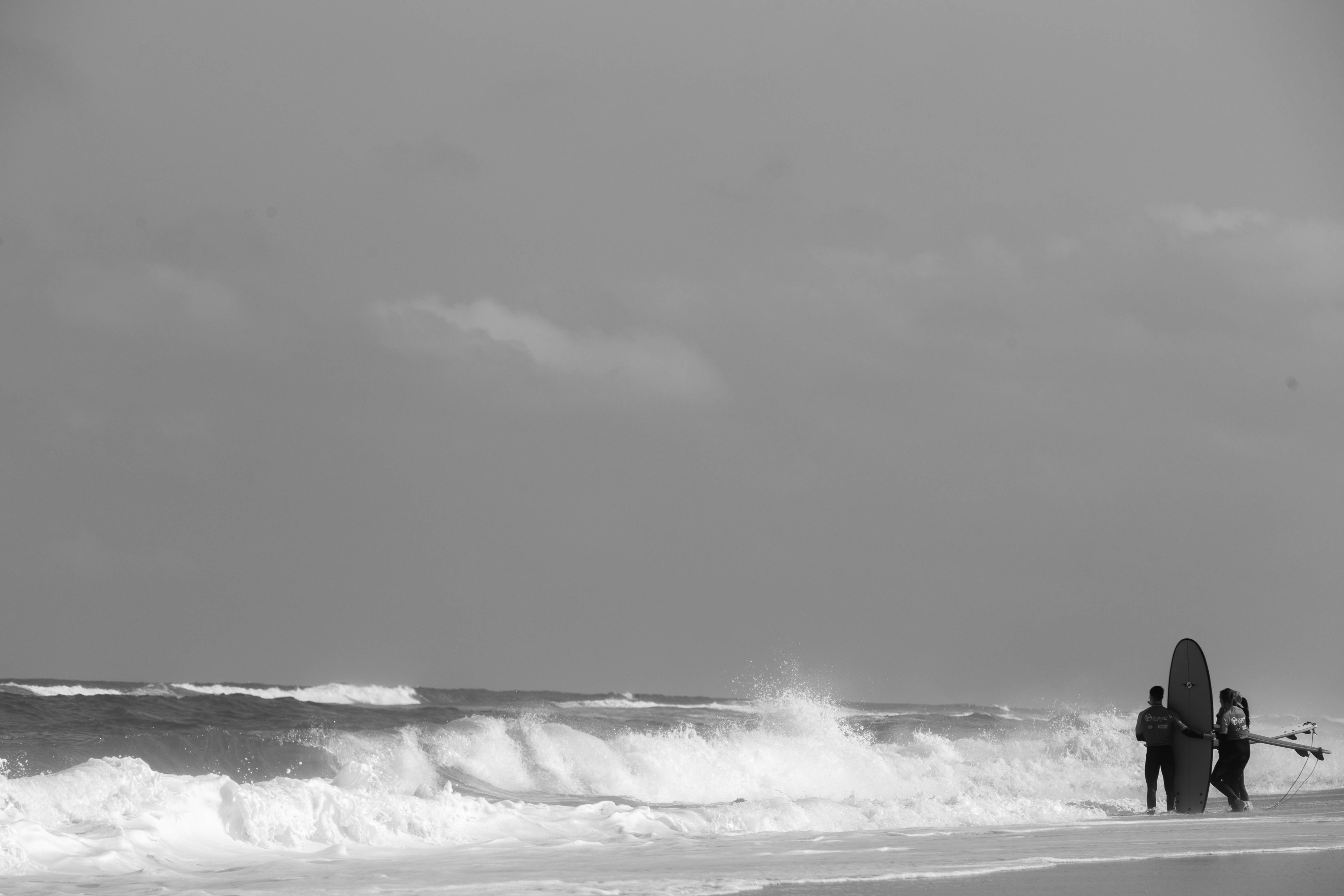 Thursday 
On Thursdays we like to take it down a notch and get some strength back into our tired bodies. This is the perfect day to take a nap on the beach between your surf lessons and do yoga to slow things down a bit. After a few days of intense surfing (and other extra-curricular workouts such as drunk dancing), you really might need a day like today.  
Can you sing or play an instrument? Because if you can, this is your time to shine. On Thursdays after dinner we hold weekly jam sessions at the beach to help everyone chill. We bring guitars or a uke and see what happens. If you feel a bit shy – take some beers with you! That plus the stunning sunset will surely put you in the right mood.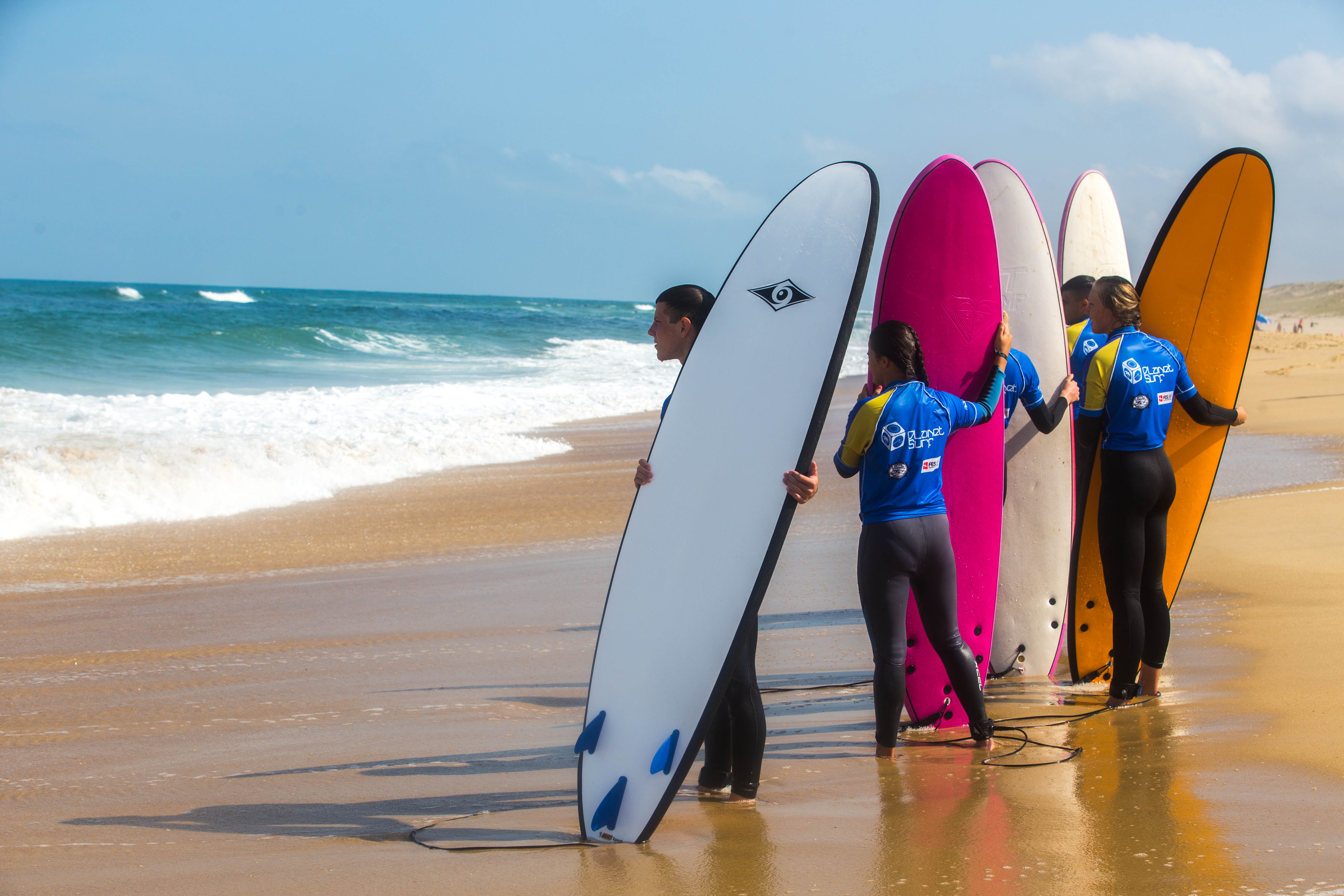 Friday
As all endings are, Fridays are bitter-sweet. You're kind of used to doing all this amazing stuff, brekkie, surfing, yoga – it's part of your routine by now. The sound of the waves is in your ears even when you're asleep, the crisp night air doesn't keep you up at night anymore, you don't complain about carrying the boards to the beach anymore and you don't feel weird doing yoga positions that make other people look at your ass.  
It's the last day, so you're enjoying yourself as much as possible. But if you thought the last day was going to be just like any other, boy you were mistaken. In the afternoon, you will get the chance to show off your crazy surf skills at the surf contest lesson. Don't worry, this isn't something that's supposed to be stressful, so feel free to show off the best duck dive, sun salutation or any other weird positions that you think may make your judges, the surf instructors, laugh.  
And finally, to give you a proper send off, we celebrate an amazing week by drinking some mojitos and going out all together to our favourite bar, one last time. Remember, the one upside about not having surf lessons the next day is that you can stay out as long as you please and celebrate as hard as you please.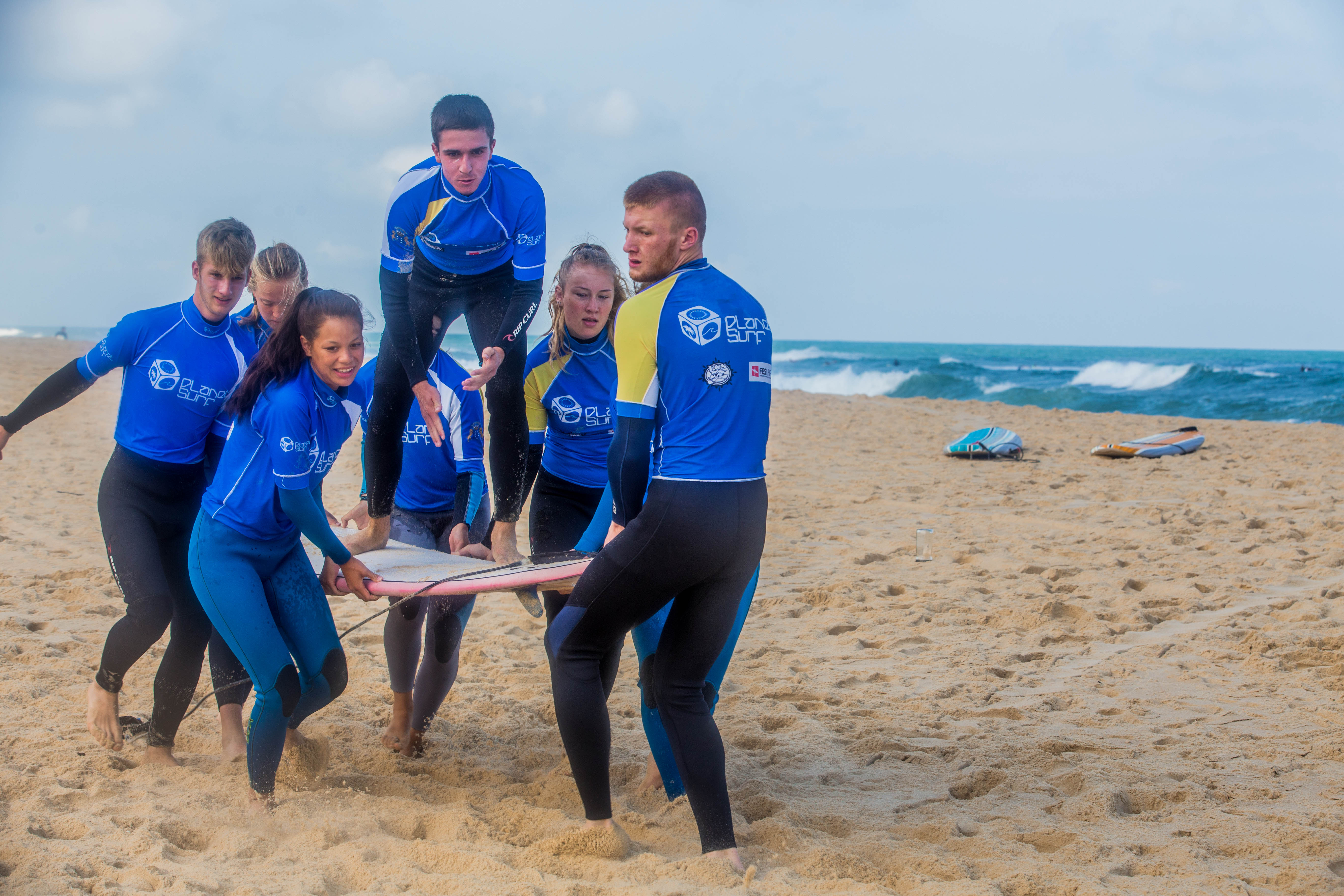 If you weren't convinced yet about coming to join us for a week at our camp in Vieux-Boucau, we hope you are now after getting a sneak peek of what it's like! 
Looking forward to a week with you! 
Julia