Surf Camp 30+
Surf Camps for adults who are young at heart
There is no better way to stay young at heart then exercising outdoors, feeling the salt water on your skin, living in harmony with nature and having the possibility to learn something new every day. You will find all this and much more in our Surf Camp 30+ !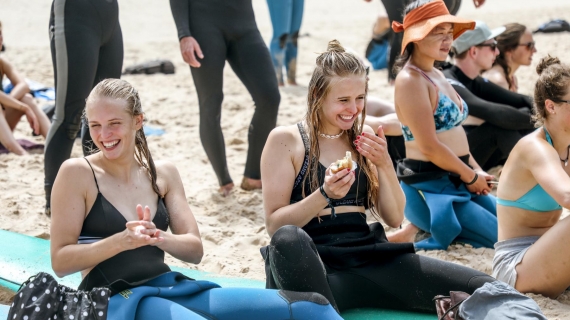 Surf Camp 30+ for beginners and advanced surfers
It doesn't matter if you already have experience in surfing or other board sports or not, in our camps everyone who is ready to engage in a surfing holiday will find what they are looking for. Our surf lessons, which consist of maximum 8 people per group and are given by experienced and certified instructors, are aimed at training exactly the skills you would like to aquire, no matter if that is standing on the board for the first time or working on sharp turns. Furthermore, you not only learn surfing in our camps, but can also let out your inner child and work on your core strength and balance while skating, splashing around in the ocean, participating in our yoga classes, slacklining or jumping on our trampolines.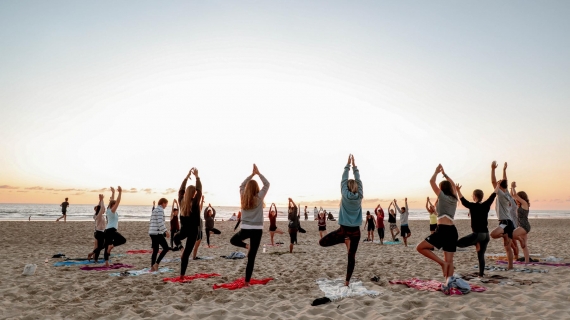 Never alone at our Surf Camp 30+
You will for sure get to know a lot of likely-minded people in our Surf Camp 30+, whom you can spend a unique holiday with. In an occupational routine, it is sometimes hard to get into contact with new people - in our Surf Camp 30+, it will be easy to find new friends amongst other sports-mad sun lovers from different countries. There is nothing better to bond over then the first time of standing on a surf board all the way to the beach or the first cut-back! And who knows, maybe you'll even meet the right people to plan your next surfing or winter sports holiday with.
Adult Surf Camp 30+ in Le Pin Sec
Our Surf Camp Le Pin Sec, at the French Atlantic Coast only about one-and-a-half hours from Bordeaux, if especially designed for people at the age of 30 and older. The camp right behind the dunes, with its beautiful glamping tents with wooden floors as accommodation, awaits you with a unique atmosphere in which you can feel right at home. Our team on location is there for you 24/7 and you can look forward to a relaxing summer vacation. At night, it is up to you if you would like to enjoy the sunset on the beach, gather with the other guests at the camp to talk about your day or to enjoy deep conversations over a glass of French wine, go out for one or the other cocktails at the bar in the dunes or party with our team at the weekly bunker-raves - plenty of opportunities for everyone!

Surf Camp 30+ in other places and countries
Naturally, people at the age of or over 30 re also welcome in our other camps in France. You will never be alone in any of them and if ge is just a number for you, you will definitely meet a lot of people in each of them. If you can see yourself making friends with 18-25 year-old surfers, our smallest camp in picturesque Vieux Boucau is the right spot for you. Here, you can find glamping tents, pine forests, a beautiful town centre and cosy bars. If you, in spite of the surf lessons, prefer to party until the sun comes up, our camp in Moliets is the right fit for you, because this is the spot where party animals from all over the world meet every summer to throw the most legendary parties of the season. For those amongst you, who would like to travel to destinations further from the European Continent, we also have offers in Fuerteventura, Bali or Morocco for you.
No matter which of our surf camps you choose, in our Surf Camp 30+ you will for sure meet a lot of likely-minded people, improve your surfing and have a lot of fun and an unforgettable holiday!