Junior Surf Camp Spain - The perfect surf trip for teenagers from 500€
Surf Camp Spain
22 or 12 surf lessons, 7-14 days accommodation and surf equipment.
Surf Camp Accommodation
Sleeping in sets of two in spacious four-person-tents with wooden floor, mattress and bed sheets
Surf Camp Catering
Fresh and healthy food in the morning and evening to optimise your performance on the water. (incl. dishes)
Surf Camp Yoga
Free Yoga lessons in addition to surfing. For better flexibility and muscle relaxation.
Surf Camp Activities
Lots of options like Yoga, skating, bike tour, volleyball, hiking, shopping and more.
Surf School and Surf Equipment
Large range of equipment from boards to wetsuits to wax - all you need!
Surf Lessons
Multilingual and licensed surf instructors head to different spots around. Maximum eight people in one group to learn how to surf faster. Lessons include surf theory units.
Location and Beach Proximity
Only 80 meters to the beach and the closest surf spot. 30 meters away from restaurants, bars and supermarkets. 800 meters away from the city center.
Surf Holidays
Surf Camp runs from July to August. For surfers from 13-17 years of age.
Transportation and Arrival
Bus transfer can be added to the booking. Easy travel and cheap flights from all over Europe. Shuttle service from nearby Airport Santander. Good bus connections also from Airport Bilbao to the camp.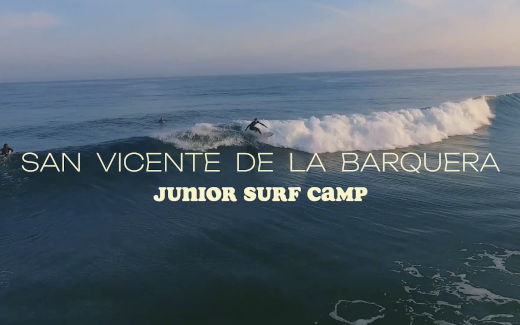 Learn how to surf in our Junior Surf Camp in Spain
In the past few years surfing and its lifestyle has become more and more popular among younger people, which is why we opened a Junior Surf Camp Spain in San Vicente de la Barquera in 2013. Especially youngsters are able to learn extremely fast, which also applies to surfing - the earlier you start surfing, the better progress you will make. That is why we also want to give younger surf enthusiasts the chance to get to know this great sport. Any teenager from 13 to 17 is more than welcome to come to our junior surf camp in San Vicente de la Barquera.
As soon as you arrive, the reason why we decided to settle down here with our junior surf camp will become very obvious: in this town on the Atlantic coast you do not only have excellent surfing conditions but also everything else you might need for the perfect surf trip: Good shopping opportunities, ATMs, restaurants, and quite a bit of history: the town center of San Vicente de la Barquera with its charming and old houses, which was declared a cultural asset in 1987,  the church Santa María de los Ángeles, which was built between the 13th and 16th century, the castle and many more are worth seeing.
The main focus, though, will definitely be on surfing. Our team tries to offer new activities every day so you will have an unforgettable stay at our Junior Surf Camp.
Our Junior Surf Camp Spain is situated on the camp site "El Rosal ***", which is directly behind the dunes  – so it's a very short walk to the beach. If you still have enough energy after a long day of surfing, you can either check out the volleyball and basketball fields or have a go at ping pong and soccer. Moreover, the team regularly organizes themed party nights, so you dont have to worry about getting bored. Right from the beginning you will be part of our surf family as we will all enjoy the relaxed camp vibes together. The cook in our camp prepares fresh and healthy meals every day, ensuring that you will have enough power for epic surf sessions.
Check out our pictures and see what's waiting for you at our junior surf camp in San Vicente de la Barquera!