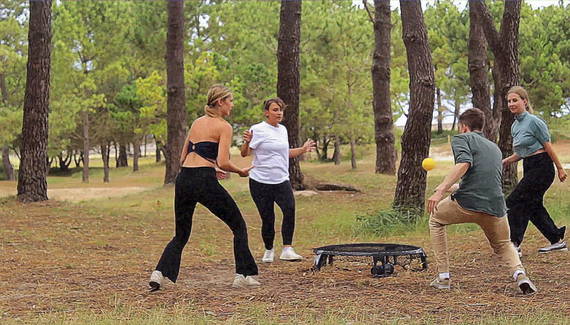 Activities in our Junior Surf Camp Spain
Besides surfing you want to get to know the surfer lifestyle, want to hang out with other birds of the surfing feather? Wanna enjoy a memorable surf-trip?
These are just a few things we can offer you at our junior surf camp.
Saturday is our arrival and departure day. You'll meet the team and get to know the most important facts about the camp. Afterwards we do some games, so you'll get to know the others easily.
Sunday is our sporty day, where our beach volleyball and beach soccer tournaments will take place. Later we do a movie night.
Mondays we start our program with our Olympic games.
On Tuesdays we offer trips to an action park or horseback riding.
Wednesdays we organice a junior flunky ball tournament and do a camp party.
Our verry own surf contest takes place on Thursday.
Friday. On our last day together we'll do a farewell party.
And then the week starts again with Saturday.
Our camp is located in the beautiful village of San Vicente de la Barquera, which is known for his amazing beaches.
Our "main" beach "El Rosal" isn't only perfect for surfing, it's also amazing to chill and relax after a surf session. Enjoy the summer vibes and get tanned.
In our junior surf camp Spain you can find the perfect combination of surfing, sun and summer fun!
There's so much you can experience in our camp:
We offer you a lot of sports equipment for free use and an individual and varied entertainment program.
Junior Surf Camp Activities - more than surfing!
Bodyboards
If your not tired of water yet, you can grab a bodyboard and hit the waves again!
Balance Board and Slackline
Improve your balance on the board or learn cool new tricks.
Skating
Show us what you can on our own camp mini-ramp or cruise through the city. Skateboarding isn't only super fun, it also helps you to improve your surfing skills and style.
Ping Pong
Play an amazing ping pong match with our team!
Yoga
If you want to relax or take a small break from surfing we offer you yoga lessons in our junior surf camp.
Party
Once a week there's the possibility to come with us to a close city and enjoy the nightlife there. In the evenings you could also hang out in our chill out area and get crazy with your mates.
Weekly program
Volleyball tournaments, Sunset surfing or a chill DVD-evening, are just a few things we can offer you in our camp. We'd also love to get your ideas and involve you in the planing of new activities..
Surf contests
Join one of our legendary surf contests, show us what you got and what you already learned. You'll also get the chance to win some prices here!!
Table slide contest
Once a week you can also join one of our super fun table slide contest, the perfect slide experience in our summer camp.
Sunset or sunrise surfing
Due to conditions we offer you a sunset or sunrise surf once a week.
San Vincente
Besides the beautiful local flavoured city center of  Vicente de la Barqueras, you shouldn't miss a trip to the Cathedral of Santa María de los Ángeles.
Our junior surf camp Spain should convince you because of our quality surf lessons and amazing entertainment program!
Enjoy the Ride with Planet Surf!