Surf Camp Fuerteventura - from only 300€
Surf Camp Fuerteventura - Surf packages from 300€
Surf packages with 5, 7 or 14 nights in the Surf House + 4, 5 or 10 days of surf lessons, including food.
Surf Camp Accommodation
Stay at the Surf House in two-, four- and eight-bed rooms or in a private surf apartment.
Surf Camp Activities
Lots of options like party, BBQ, Yoga, skating, bike tour, island hopping, horseriding, snorkeling, fishing, ping-pong, hiking and more.
Surf School and Surf Equipment
Large range of equipment from boards to wetsuits to boots to wax - all you need! In the surf class, our photographer takes photos of your best waves.
Surf Lessons
Multilingual and licensed surf instructors head to different spots every day. Maximum eight people in one group to learn how to surf faster. Lessons include surf theory units.
Location and Beach Proximity
In the vivid city Corralejo. Only 200 meters to the beach and 500 meters to the surf spot. 500 meters away from city center and 100 meters away from the skate park.
Surf Holidays
Surf Camp bookable all year long. Minimum age 18 years, average age 18-35 years. Maximum 42 surfers at the camp.
Transportation and Arrival
Easy travel and cheap flights from all over Europe. Shuttle service from the nearby airport.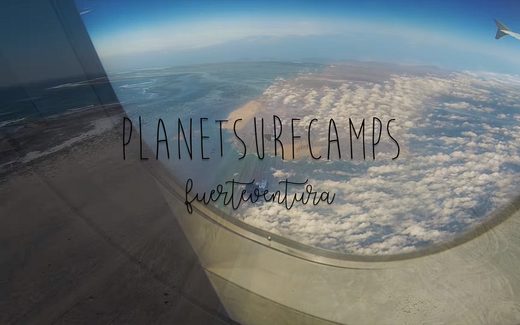 Fuerteventura offers perfect waves 365 days a year!
Fuerteventura is one of the 7 main Canary Islands, all of which are on the Atlantic Ocean. Geographically speaking, the Canaries belong to Africa, as they are only 120 km west off the Moroccan coast. Nevertheless, Fuerteventura – like all the other islands of the archipelago – is part of the Spanish province Las Palmas and is easily accessible by plane from mainland Europe.
Fuerteventura is the ideal place for surfing: aside from the warm, summery weather all year long, there are fantastic waves, endless beaches and countless reefs – everything a surfer could ask for! The island's shape provides it with a never-ending coastline on the East and West side, which has both sandy and pebbly beaches, and it has the unique ability to pick up swells from all directions!
These are only a few of many reasons why we opened up our Fuerteventura surf camp in Corralejo, a former smugglers' and pirates' stronghold. Even though there is a beautiful beach within walking distance from our camp, we use our surf vans to take you to the best surf spots every day. Because Fuerteventura offers so many different surf spots you don't have to be worried about getting bored or missing out on good surf: apart from the beginner beaches like El Cotillo, there are many surf spots for intermediate and advanced surfers, especially on the north shore of Fuerteventura.
Besides surfing, the town of Corralejo itself offers many opportunities to make your surf trip an unforgettable experience. You can go fill up your bellies in all the different restaurants, whether it's typical food, the nice Italian Osteria just around the corner or a huge sushi plate at a Japanese restaurant that you're craving. Furthermore, you can visit the numerous surf shops, where you can buy clothes and accessories from every well-known surf, skate or snowboard brand.
There's plenty to do as well at our surf house where you will be staying. There's a pool table, a TV room where we can watch the coolest surf movies together and a cozy chill area. You can take the carver skateboards for a spin, hang out at the weekly barbecues at the house or join us on a day trip to Lobos island off the coast of Fuerteventura on the weekend. If you still have enough power left after all of that, you can go out for drinks with people from the camp or go crazy on the dancefloor until sunrise.
As you may have already noticed, we are not the only surf camp that has realized Corralejo's many different qualities. A lot of other schools have settled down here as well, but we pride ourselves with having the most extensive experience in this field gained through years of running our camps in France and Spain. However, the most important benefit of Planet Surf Camps, is that we grew up in the Canary Islands and therefore we know the islands like the inside of our pockets. So every day we can find the perfect surf spots for you depending on your skill level!  
Our surf camp in Fuerteventura is also one of the few surf camps on the island that are part of the Canarian and Spanish Surf Federation.