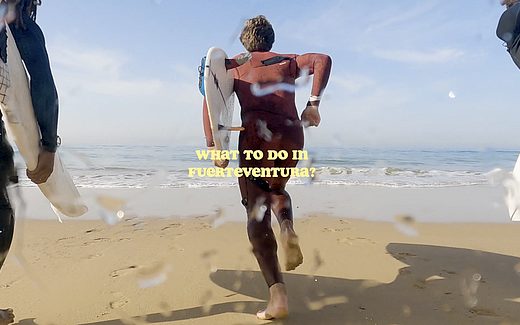 Activities Fuerteventura - An Island full of possibilities
In our surfcamp surfing is going to be midpoint during your stay but we also offer you many other activities Fuerteventura with that you surf trip will be unforgettable.
In our camps we act like family and we continuously try that there is a nice and friendly atmosphere between all our customers even you stay in different accommodations. The surf house is the main part: there is the meeting point for common cooking, partying or having a big barbecue altogether where you can eat as much as you can of typical Canaries food e.g.. You can digest it while lying in the hammock, by playing kicker or by walking on the slack line. In the surf house it is never going to be boring :-)
Activities Fuerteventura - Not only in the camp
Also Corralejo itself offers many opportunities to occupy yourself. Apart from all the stores where you can fit out yourself with a new set of clothes or get a bargain at the outlet stores, there are also countless nice restaurants from every nationality: Canaries, Spanish, Italian, Chinese, Japanese, or even Brazilian. Everyone will acquire a his or her taste we guarantee that you fill your belly.
Activities Fuerteventura - Trips
On the weekends you can make a trip with the fairy to Lobos. The uninhabited and listed under nature conservation island is only 10 minutes away with the fairy. There you can - on your own or with a guide – go snorkeling or just relax on an empty beach.
A trip to Lanzarote is worth it for a whole weekend. In only 20 minutes you achieve the neighborhood island, where you either can relax on the Papagayo beaches, visit La Geria, the wine-growing area or Jardin de Cactus, a cactus garden or you can watch rare birds at the "Tropical Park".
Activities Fuerteventura - You just have to ask for action
The dessert landscape of Fuerteventura is perfect for quad tours which you can book from external providers, as well as kayak trips or you make professional diving tours.
If you want to have less action apart from the lessons you can veg out at a spa.
Activities Fuerteventura - Also for party animals
At night Corralejo turns into a party mile: on the main street and in every side street there are countless bars, no matter if with live music, karaoke bars, surfer bars, where you can watch the latest surf movies or tasteful cocktail bars. Here you will find something to spend an awesome night with cool people. Who wants to take the floor till early in the morning can do that in one of Corralejos night clubs.