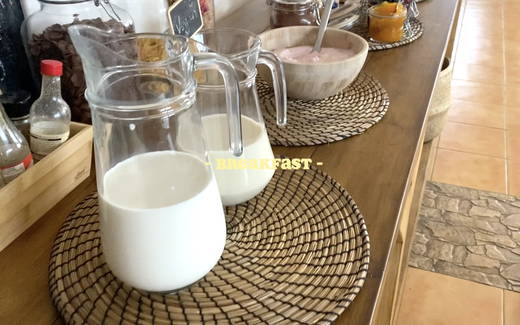 Food Fuerteventura – Corralejo offers everything you need
Our surf camp Fuerteventura is now no longer a self-catering camp, because all days, except on Fridays, there is a varied and balanced breakfast buffet every morning and in the evening at 8 pm a fresh, healthy and above all delicious dinner.
To ensure that there is something for everyone, we also offer a vegetarian or vegan version of each dish.
In all accommodations there are still fully equipped kitchens, where you can, if you like, swing the wooden spoon and prepare your own lunch. Maybe you would like to try out one or the other Spanish recipe. Each of you will also have your own refrigerator compartment to store snacks or other items for in-between meals.
Every week there is also a super tasty BBQ, with Canarian specialties from the grill, delicious salads, sangria and beer. Guests, surf instructors and teammates come together every Wednesday, barbecue, eat, drink and spend a cozy evening together, which ultimately always ends in a lively party.
On Friday evening there is no dinner, because then our chef is off. But if you do not like to put yourself in the kitchen, Corralejo offers everything that makes the gourmet heart beat faster. Countless restaurants, from tapas bars, typical Canarian food, Spanish, Italian, Chinese and Japanese, to Brazilian and much more. It is definitely worthwhile to look into the side streets, because there often hides a real culinary experience!
We also like to show you our favorite restaurants!