Surf Camp Vieux Boucau - from 450€ all included
Surf Camp France
12-22 surf lessons/ week, 7-14 days accommodation, and surf equipment free to use.
Surf Camp Accommodation
Sleep in luxurious glamping tents, complete with wooden floorboards. 2 people share a 4-person sized tent.
Surf Camp Catering
Full board with fresh and healthy meals to fuel your surfing progress. Cutlery inclusive.
Surf Camp Yoga
Free yoga sessions, to complement your surfing. Improve your flexibility and relax your muscles.
Surf Camp Activities
Partying, yoga, skating, volleyball, trampolining, hiking, shopping and much, much more!
Surf School and Surf Equipment
Large range of surf equipment, from boards, to wetsuits, to wax! We've got all you need!
Surf Lessons
Multilingual and licensed surf instructors. Maximum of eight students per instructor to ensure both quick progress and your safety. Lesson programme includes surf theory units.
Location and Beach Proximity
Our Surf camp is directly behind the dunes. 500m from the town centre. 1000m away from the popular beach bar Mojito.
Surf Holidays
Runs July – September. Minimum age 18 years. Average age 18-35 years. Maximum capacity of 36 surfers. The tourist tax is included in the price.
Transportation and Arrival
Bus transportation can be added to your booking. Cheap flights available from all over Europe. Shuttle service available from the nearby airports Biarritz and Bordeaux.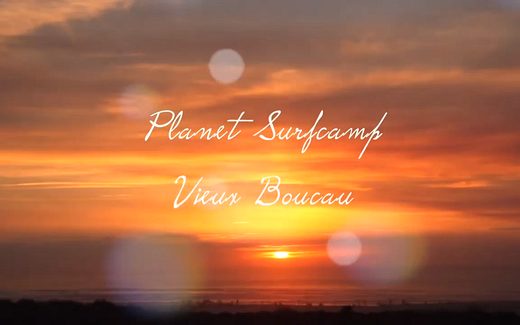 The Surf on Your Doorstep at Our Surf Camp in Vieux Boucau
The town of Vieux Boucau, on the Atlantic Coast, in South-West France, is home to the Southernmost of our French camps. Our Vieux Boucau surf camp is situated on the camp site ''Les Sablères ***'', directly behind the sand dunes. Stroll just 100m from our camp in Vieux Boucau and you're at the surf! Drive twenty minutes South and you're at the World-famous surf spot of Hossegor! Drive for just over an hour, and you're in Spain! This excellent location, combined with a cosy camp atmosphere, by virtue of a maximum capacity of 36 guests, makes our Vieux Boucau camp the perfect place for a week's surfing getaway.
The extensive sandy beach, behind which the camp is set, is home to some great waves for surfing. Hence why we decided to build a surf camp here! When you're not in the water enjoying the pumping surf yourself, take some time to watch the international talent, especially when a big swell rolls through. You'll witness some top-level surfers putting on a great show!
The beauty of our Vieux Boucau camp is that everything is in walking distance. A couple of minutes' walk and you're at the beach, 500m and you're in the centre of town! In addition to the essentials of banks, pharmacies, and supermarkets, the town of Vieux Boucau is also host to several bars and restaurants. Perhaps our favourite of Vieux Boucau's bars is the beach bar Mojito, where each night you're bound to find at least a few of us partying into the early hours along with some of the other surf camps of the area.
A short drive of just 20 minutes from our Vieux Boucau camp is the surf capital of Hossegor. In Hossegor you'll find beautiful beaches, excellent surf and a variety of surf outlets, where you can score some great prices on the most famous surf, skate, and snow brands.
The atmosphere at Planet Surf is warm and welcoming. With a maximum of 80 guests each week, no matter whether you come alone, or as part of a group, you'll feel part of the family. Our team are always on hand to offer you help and advice, and ensure you have a great holiday. Whether you need directions to a local attraction, or someone to hit the bars with, our team are there for you!