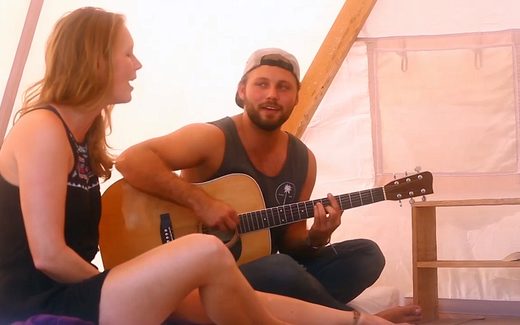 Surf Camp Accommodation Vieux Boucau - Camp in Comfort with Planet Surf
At our surf camp in Vieux Boucau you'll sleep in spacious glamping style tents complete with wooden floor. It's certainly a world away from what scenes would spring to mind for most people on mention of camping! Each tent is shared between 2 people and provides a comfortable place to sleep after a long day of surfing. We understand how important it is to be accommodated in surroundings where you're able to get a proper night's sleep on holiday, and even more so when you're worn-out after surfing. That's why we place making the tents in Vieux Boucau as comfortable as possible as a high priority.
We kindly ask that you bring your own sleeping mat and bedding with you, and bear in mind that the nights in Vieux Boucau can sometimes be a bit chilly.
If you prefer you can rent a 10cm thick foam mattress for 15,00€ a week. For another 15,00€ you also get pillow, sheets and blankets from us.
Besides our glamping tents, you can relax and mingle in our dining tent or chillout area. In our dining tent, the team prepares delicious breakfasts and warm, healthy dinners for you. At night, we have parties here or sit together to play games or watch movies.
If you have enough energy left after a day of surfing, there are also ping-pong tables and volleyball and soccer fields on the campsite, which you can use freely. We also orgnize tournaments, where practice throughout the week pays off. Fuerthermore, our slackline and trampoline offer a great oportunity to work on your balance, a skill essential to surfing.
With all this, our lovingly built up camp in Vieux Boucau with a lot of attention to detail is a place to feel welcome and enjoy an active, relaxing holiday right by the beach.