Glamping Surf Camp Bordeaux / Le Pin Sec - from 450 € all included
Surf Camp France
12-22 surf lessons/ week, 7-14 days accommodation, and surf equipment free to use.
Surf Camp Accommodation
Sleep in luxurious glamping tents, complete with wooden floorboards, mattress and bedding.
Surf Camp Catering
Full board with fresh and healthy meals to fuel your surfing progress. Cutlery included.
Surf Camp Yoga
Free yoga sessions, to complement your surfing. Improve your flexibility and relax your muscles.
Surf Camp Activities
Partying, yoga, skating, volleyball, ping-pong, hiking, shopping and much, much more!
Surf School and Surf Equipment
Large range of surf equipment, from boards, to wetsuits, to wax! We've got all you need!
Surf Lessons
Multilingual and licensed surf instructors. Maximum of eight students per instructor to ensure both quick progress and your safety. Lesson programme includes surf theory units.
Location and Beach Proximity
40m from the beach and closest surf spot. 30m from the beach promenade.
Surf Holidays
Runs June – August. Minimum age 18 years. Average age 18-35 years.
Transportation and Arrival
Bus transportation can be added to your booking. Cheap flights available from all over Europe.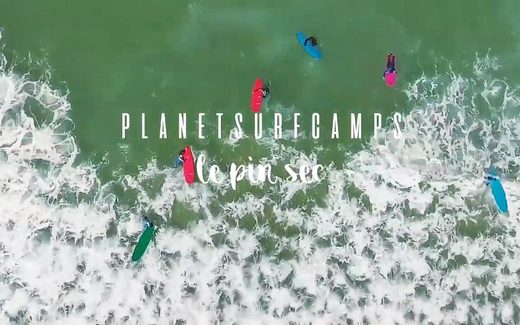 Le Pin Sec - The Insider's Tip for France - Glamping, Peaceful Beaches and Empty Line-Ups
If it's a peaceful week enjoying the French waves that you're after, then our surf camp in Le Pin Sec is probably the one for you! Our Le Pin Sec camp is undoubtedly the most relaxed of all our surf camps, and as such, has become an insider's tip among returning customers. Le Pin Sec is the most Northern of our French camps and is situated a 1.5 hour drive from Bordeaux.
Even before arriving into camp, you'll start to sense the laid-back atmosphere as you drive through the pine forest, upon empty roads.  The camp itself is positioned right behind the sand dunes, just 40m from the beach. The nature that surrounds the camp, the peaceful atmosphere, and the uncrowded beaches are just some of the reasons why we made Le Pin Sec our first glamping surf camp.
You'll be accommodated in comfort in our tents, which come with mattresses, bedding and wooden floorboards.  In addition to surfing, there are daily yoga lessons, there's beach volleyball, and of course there's the beautiful sandy beach to chill on. Our surf camp in Le Pin Sec truly is the perfect place to escape your everyday stresses and unwind.
However, if you like to enjoy a night out, or two, on your holiday, you need not worry! Lacanau, with its great nightlife, surf stores, restaurants and bars, is only a 40 minute drive away.
In addition to surfing, we offer you many other activities so that you are guaranteed not to get bored. You will quickly notice that the atmosphere in our Glamping Surf Camp Bordeaux is unique and you will quickly make new friends that often last for years!