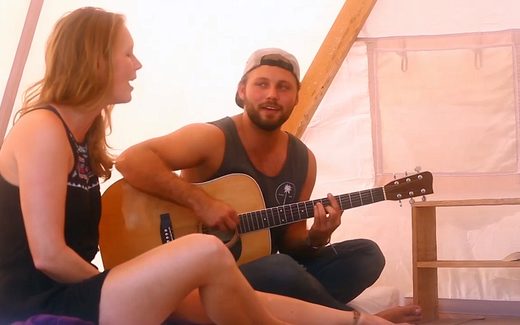 Accommodation in Our Le Pin Sec Surf Camp – Glamping
In our camp in Le Pin Sec, you won't miss comfort and luxury, even though you are on  campsite. All our tents at our surf camp in Le Pin Sec are glamping-style, meaning that you don't have to sacrifice comfort even though you're away from home. To make the most of your surf sessions, and to have a relaxing holiday, we know how important it is to have somewhere accommodating to sleep. That's why all our tents in Le Pin Sec are kitted out with proper mattresses and wooden floorboards, too. You don't even have to bring your own bedding like a sleeping bag, because all our glamping tents await you with fresh sheets. As much as we love the sand, it does get everywhere, and it's sometimes nice to be able to get dressed without sandy feet! What's more, our luxurious glamping tents are situated just metres from the beach, affording you a little extra sleep before any sunrise surf sessions.
Accommodation Le Pin Sec - much more than just surfing
Besides our sleeping tents, we also have common areas. These include our kitchen, which is situated right next to the dining area were you can enjoy our delicious meals. There are also various chill-out areas where you can relax, read and mingle.
Of course, there is also our surftent, where you can get all the material like surfboards and wetsuits for the lessons. You can also use our material for free before and after the lessons.
Time to relax, mingle and party in Le Pin Sec
Our common areas are perfect for relaxing after a long day of surfing, play card games together with the new friends you made or have a drink. Our dining area turns into a party tent on some nights, where we sometimes offer salsa classes, listen to good music or just watch a movie together.
If after surfing, you still haven't had enough of physical activity, feel free to use our table tennis and beach volleyball court. Here, you can let our all your energy and compete against the other camp members.
We turn the night into day in Le Pin Sec
Besides the parties at our camp, our nice team organizes also other activities for you. Like this, you can alwys meet new people, make new friends and stay active. You'll never be alone at our camp (unless you want to) and we promise that you won't get bored!