It doesn't matter if you've never been inside a surf camp before or you can proudly call yourself a surf camp veteran - each of our surf camps all over the world is different and unique as we always try our best to integrate ourselves into the local culture and adapt to the traditions and way of living. Today we will show you what life looks like at our surf camp in beautiful Fuerteventura and give you a good taste of what you can look forward to.
Saturday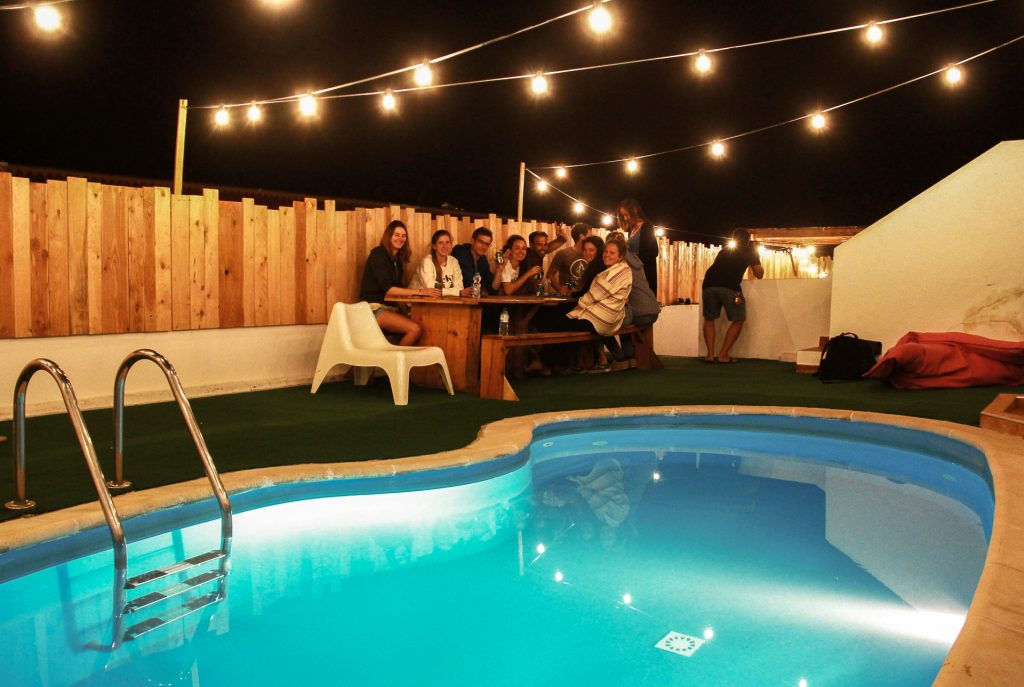 We like to think of Saturday as the beginning of the week at our camp in Corralejo, Fuerteventura, since this is the day most of our guests arrive. By the way, the easiest and cheapest ways of getting to our surfhouse from the airport are to take either a bus or a shuttle, which you can book in advance. As soon as you arrive, one of our teamers will give you a quick tour of your new home, explain the house rules and give you a few insider tips about Corralejo. Afterwards its up to you what to do with the rest of the day. You can go buy supplies for the coming week at the nearby supermarket, explore the town on skateboards or hang out with your new surf-buddies. If you're not too tired from your flight you might want to grab a few Cervezas at the sea-side bars and check out Corralejo's wild nightlife.
Sunday
Fuerteventura is the island of eternal spring, making it the perfect place to enjoy your free sunny Sundays. You can, for example, rent one of our bikes and go on an adventure around the island, which has more to offer than meets the eye at first sight. The scenery consists of an unusual mix of sand and volcanos on the one side and the vast ocean on the other side - it's nothing like you've ever seen before! Besides the friendly human locals you might also meet various other locals that you might not expect to see, like the cute Barbary ground squirrels, herds of relaxed goats or even a dromedary enjoying the blazing sun. Back at the camp, after getting to know the island and its beautiful peculiarities, you and your fellow new guests will get a more detailed introduction about everything you need to know for your stay at our camp, including information about the surf lessons. Of course you can ask any question that you have during the introduction, which our team will be more than happy to help you with. Unless you brought your own wetsuit, we will then pick one out for each of you so that you will be ready for your first surf lesson the next day.
Monday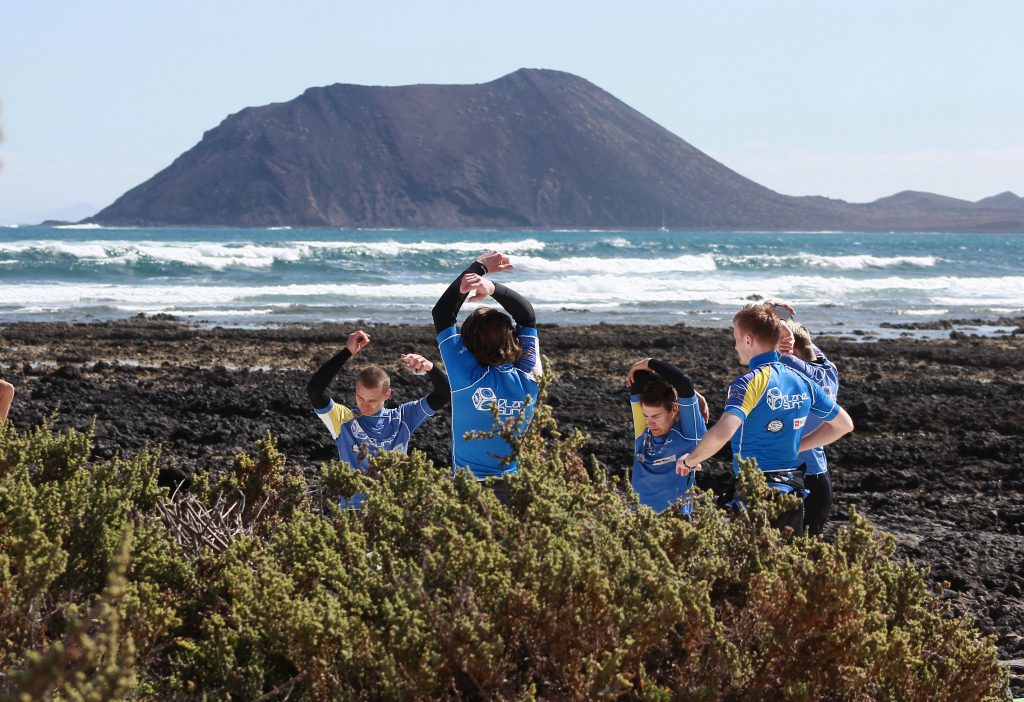 Finally! It's time for the first surf lesson of your stay. Depending on your previous surfing experience and the conditions at hand, the time and surfspot for today's lesson will be determined. Your group, together with one of our lovely surf instructors, will load the boards onto the surf van and then off you go: accompanied by good music and even better vibes you will be taken to today's surf spot.
When you get there, it's important to take care of rule number one: safety first! Before getting your feet wet - and everything else, for that matter - your surf instructor will give you an introduction about safety rules and the theory of surfing as well as the most important information about the spot (Where's the channel? What's the current like? Anything special we need to keep in mind?). What follows after the thorough and very important warm-up will depend on your surf-level and the group that you are in. As a beginner you will first practice the basic movements on the board on land before trying them out in the whitewash. Intermediates might also shortly recap the basics and then paddle out to try to catch green waves and further improve their surf skills. Even though the first day will probably be the most exhausting one for you you are guaranteed to be more than hyped for your second day of surfing due to the good vibes and great waves from the day.
Tuesday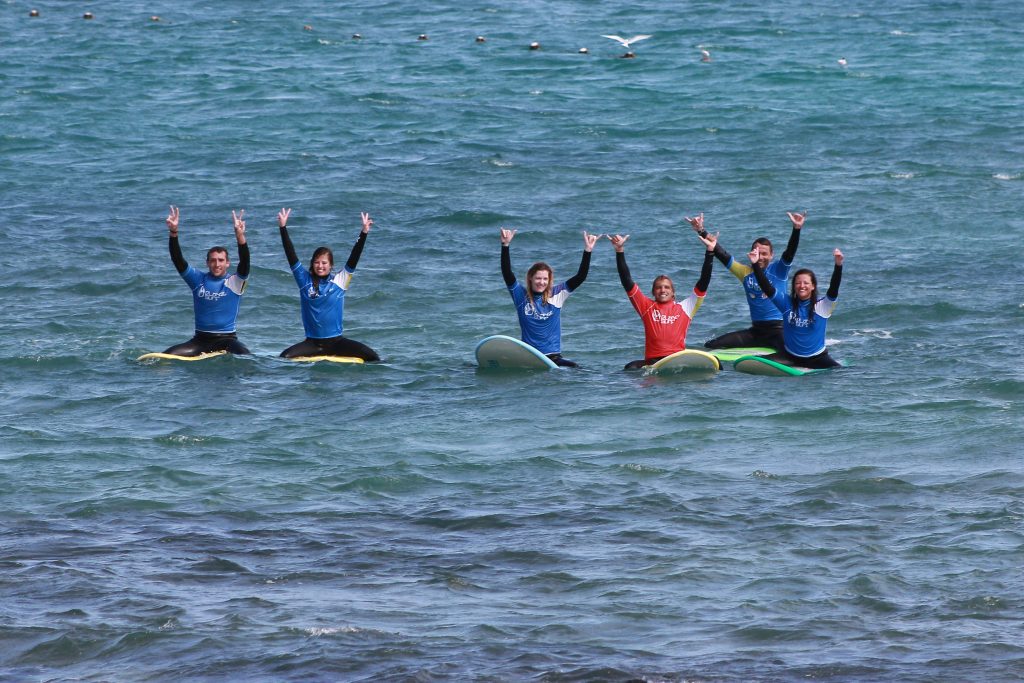 Surf day number two! By now you know a bit more what to expect and, after getting used to the movement of the ocean on the day before, you can go at full-throttle today. Beginners will further work on their take-offs and surely stand up on even more white wash waves than the day before. The intermediate surfers will keep practicing the take-off and turns on the green, unbroken waves and maybe even find a new favorite surf spot while doing so.
After a couple of hours of slacklining, playing table tennis or catching a nice tan in the sun you will sit down with your fellow surfers in our comfy TV room for a theory lesson by one of our surf instructors. Here you will learn the most important aspects about surf forecasts, the mechanics of the ocean, the wind and their synergy. This knowledge is essential for surfing so that you are better able to explore new surf spots and read the surf forecasts on your own.
Wednesday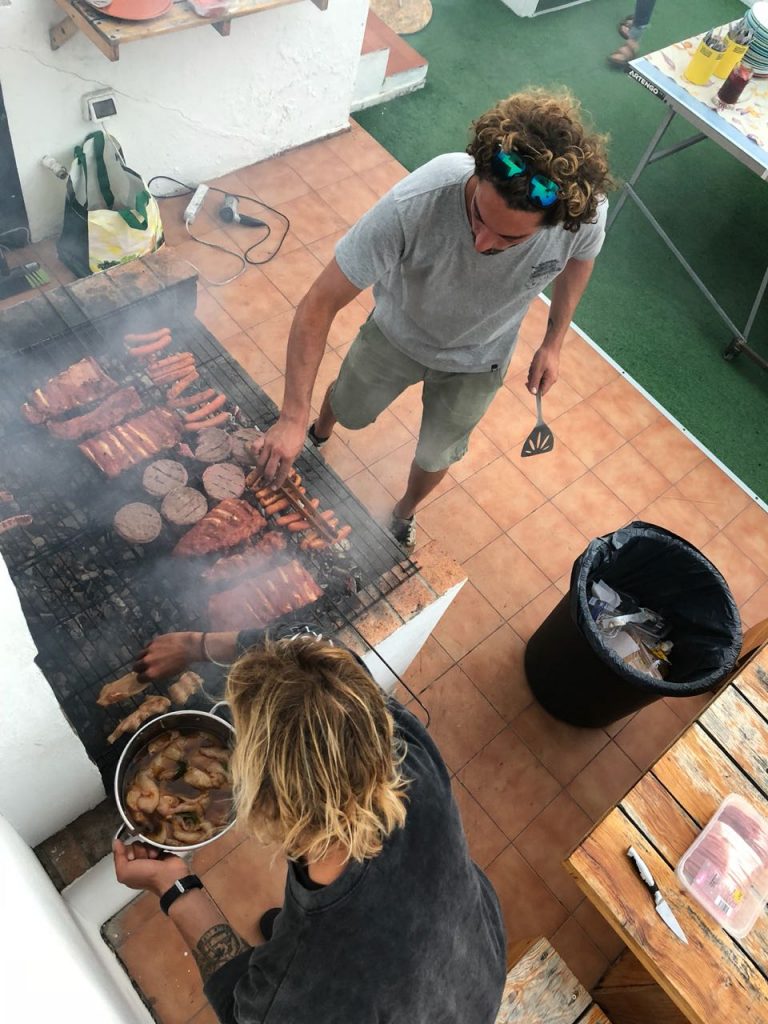 Unfortunately Wednesday already marks the day that your stay with us is halfway over. But don't be too sad and focus on what is yet to come! You still have just as many days ahead of you and that deserves a little feast, doesn't it? And what better way to celebrate than to have an amazing BBQ with everyone in the surf house!? You might think that that sounds like too much work after a long day of surfing and being in the sun. There's some truth to that but: Lucky you! You won't have to do anything but to eat as much as you possibly can at the BBQ that we prepare for you every Wednesday. No matter if you love meat or prefer to eat vegetarian, there is plenty of food for everyone. Various different salads, stuffed mushrooms and veggie dishes are only a few of many options that you will have on Wednesday night. Of course you can't have a BBQ without the fitting drinks, which is why there will be a huge bowl of sangria and enough beer to go around. After this epic dinner you will sleep like a baby and dream of the waves that you'll be plunging into on the next day.
Thursday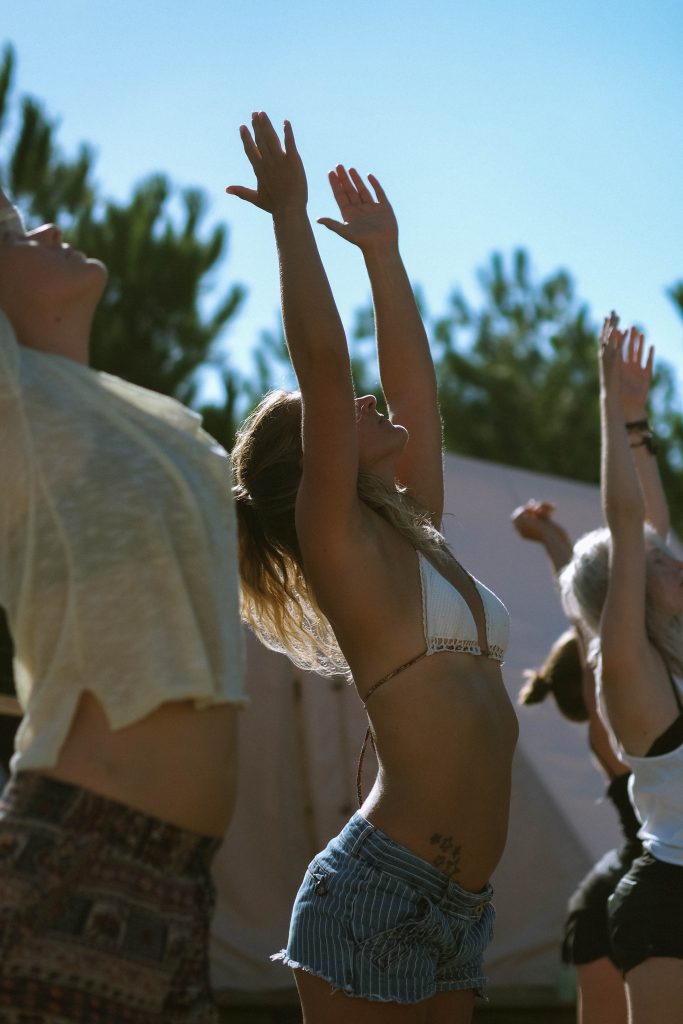 After a good night's sleep and energized by the tons of good food from the BBQ, you will head back out to one of many surfspots to keep improving your skills on the surfboard. You will see that by now it has already become routine to slip into your wetsuit, warm up your body sufficiently and then to paddle out into the waves. Nonetheless, after almost a week of surfing you will surely feel how taxing your newfound favorite hobby is for your body. What better way to limber up for the upcoming last surf session on Friday than to meet up with our amazing yoga teacher. The yoga session will take place on one of our rooftop terraces shortly before sunset - what an experience! Here you will not only be able to relax completely but also to stretch and work on all main muscle groups that you use the most when surfing, for example your neck and lower back. By doing so these muscles will recover much more quickly and let you be be as limber and fit on the surfboard the next day as never before.
Friday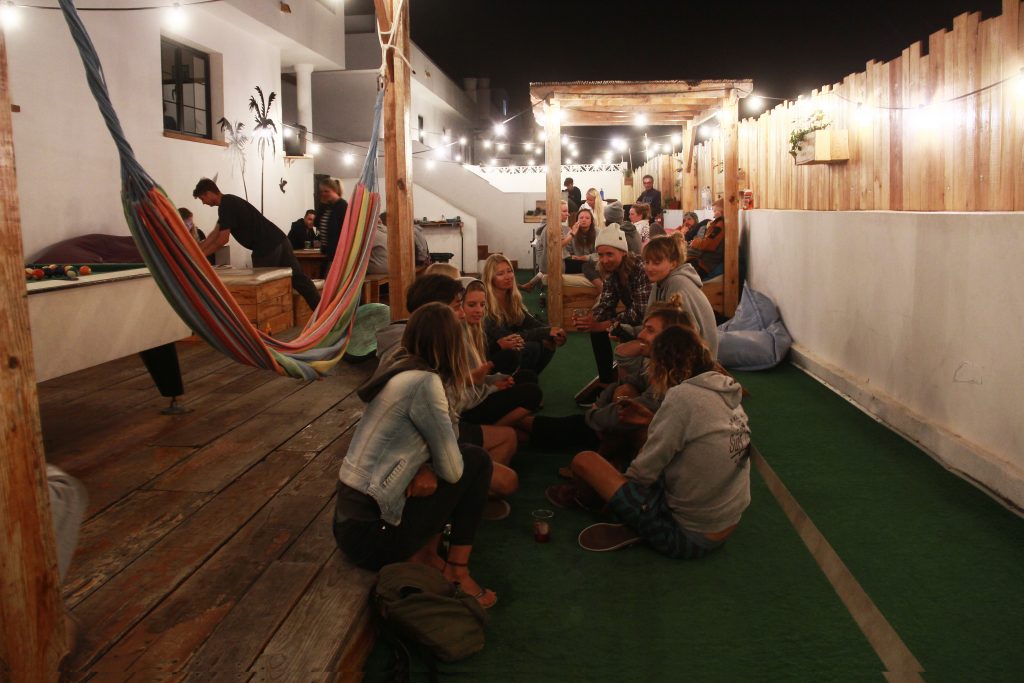 For most of you Friday will be the last day of surf lessons during your stay with us. We know it's sad.. but try to see it as a challenge and show your surf instructor how much progress you made during the past week. He will not be the only one watching that day: our camp photographer will join the course and take professional surf pictures of you that you can show to your family back home or proudly present on your social media channels. Unfortunately the last surf session will come to an end after a few hours and then it's back to your new favorite surf house. Here you can enjoy your free time by working on your tan and mentally prepare for an awesome night. In the evening you will namely go to dinner at one of Corralejo's great restaurants with the surf instructors. For them, Friday also marks the beginning of the weekend, which is why you'll have the opportunity to party and enjoy an unforgettable evening in Corralejo's nightlife with the surf instructors. Cheap drinks and good music will make it impossible for you to not dance until sunrise.
Saturday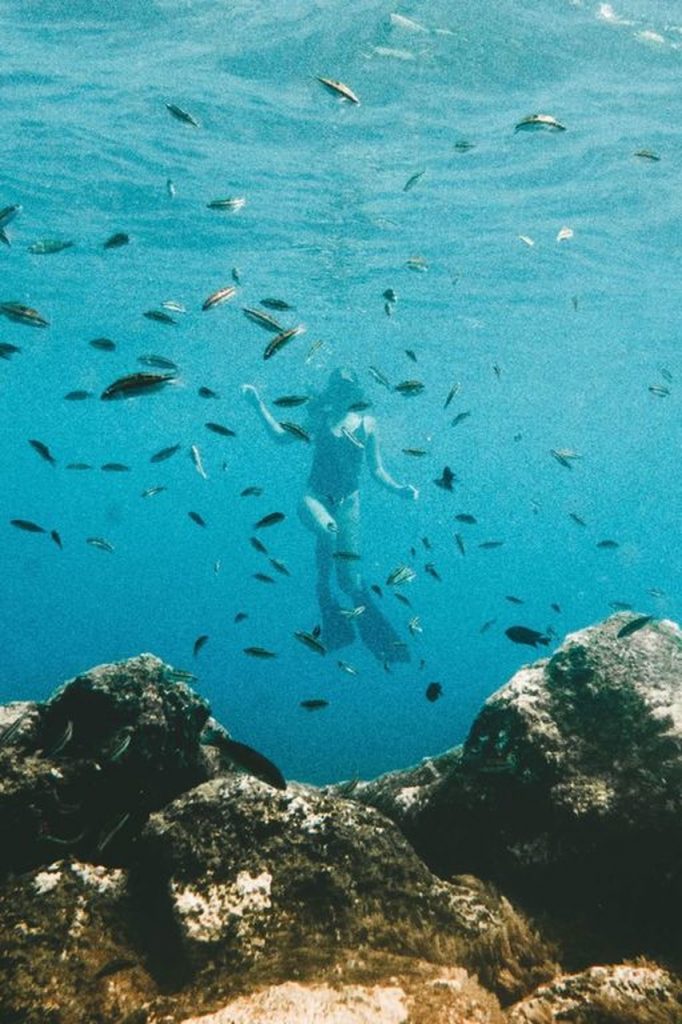 After a few hours of sleep, if any, you'll have the chance to go to a day trip to the beautiful island of Lobos, which is a tiny volcanic island just off the coast of Fuerteventura, which is perfect to spend your Saturday and cure a potential hangover. All you'll need is a wetsuit and plenty of sunscreen and then you're set to take the 20 minute trip on the taxiboat over to the island. Here, you will learn more about lobos and the volcano Montaña La Caldera during a quick round trip around the island after which the boat will land in a small bay. Bikes, kayaks and SUPs are available for rent here on which you can then explore the island and the waters around Lobos if you're not in the mood for chilling at the beach. No matter what you decide to do, around noon you will have deserved a nice lunch including the famous Canarian Mojo sauce made with a secret family recipe. Despite the few extra kilos you gained from the lunch, you will surely still fit into your wetsuit - which is good because now it's time for snorkeling! The boat will take you out to sea where you can see the amazing variety of marine wildlife around Lobos through your snorkeling mask. Afterwards you will head back to Fuerteventura to enjoy your last evening in Corralejo.
Sunday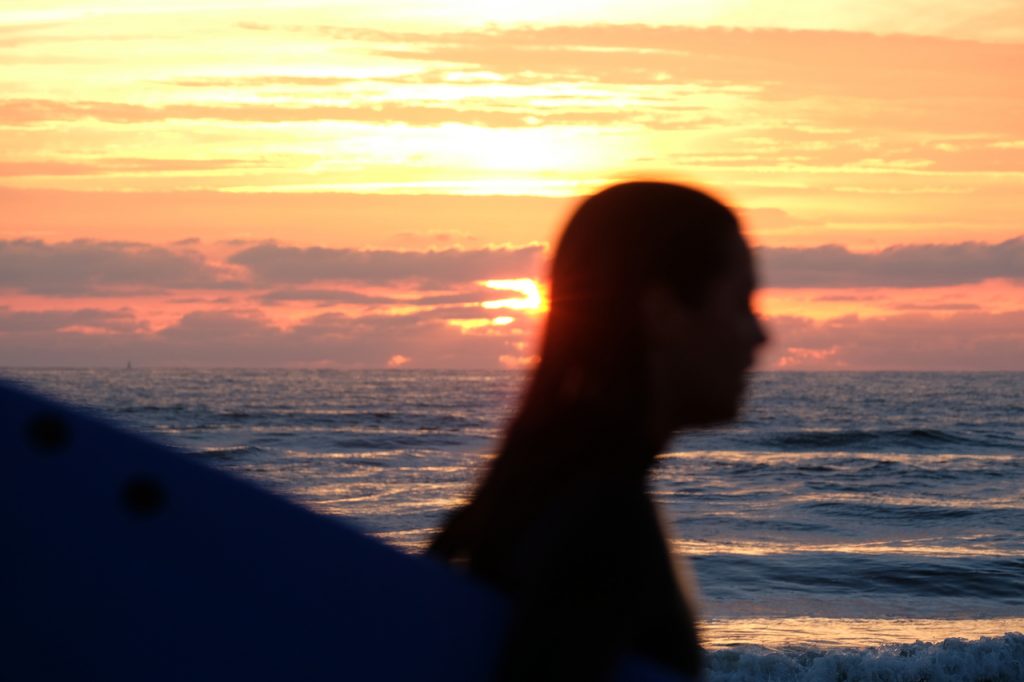 All good things come to an end... We doubt that Nelly Furtado had a surftrip to Fuerteventura in mind when she wrote her song but nonetheless it applies to your stay with us in our Planet Surfcamps surfhouse as well. Now it's time to go home with heaps of great memories, a nice tan (at least on your face, hands and feet) and the contacts of your newfound friends for life. But even though your stay with us is ending doesn't mean that your surf carreer does so as well. If you had a good time you will surely want to plan your next surftrip as soon as you get home. Good news for you: we have camps all over the world just waiting for you to come visit!
We hope to see you soon!
Anna