From February 7 - 15, 2015 Manly Beach in Sydney will once again be home to the 4th Australian Open of Surfing.
The Australian Open of Surfing is an annual festival, first held in February 2012, which features surf and skate competitions as well as musical entertainment for the expected 175,000 visitors. The surf competition is a WCT QS 6000 event, which means that the participants have the chance to collect 6000 points for the WCT rankings.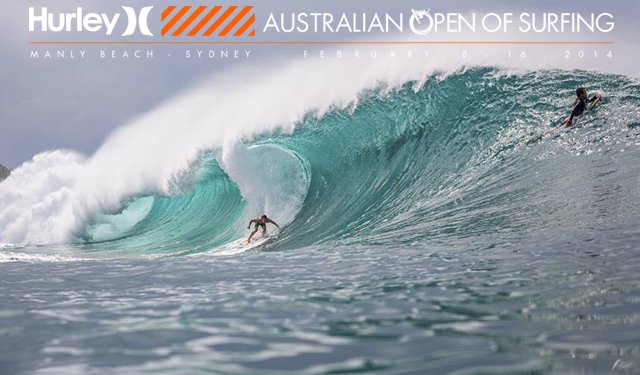 Image: https://www.dailysydney.com/
Amongst the 100+ participants in both the men's and women's event you will recognize a few big names from the World Tour, such as Mick Fanning (men's no. 2), Kolohe Andino (men's no. 11), Stephanie Gilmore (women's no.1), Tyler Wright (women's no.2), Carissa Moore (women's no. 3) and many more - one of which is the 20-year old Australian and WCT newcomer Matt Banting, who will take this opportunity to show what we can expect from his first season on the world tour. Before they hit the water, though, the next generation of surfers will have a chance to compete in Manly's waves during the Junior Men and Junior Women QS 1000.
Here's a taste of what the surf competition at Manly Beach has to offer:
If, for some strange reason, you are not that into surfing, be not afraid - there are plenty of other things to do and see during this amazing 9-day festival! You can watch the skate pros rip it in the Beach Bowl, enjoy the great tunes by Jagwar Ma, Vance Joy and San Cisco as well as art and fashion events.
For more information, a full list of athletes, a detailed schedule and the live stream of the Australian Open of Surfing, check out the official website. Keep an eye out for our next blog in which we will explain the rating system in official surf competitions!
Cheers and keep on surfing
Planet Surfcamps
Sources:
https://www.australianopenofsurfing.com/2015
https://concreteplayground.com/sydney/event/hurley-australian-open-of-surfing-2015/
https://www.smh.com.au/sport/stephanie-gilmore-and-mick-fanning-headline-australian-open-of-surfing-20150119-12te01.html