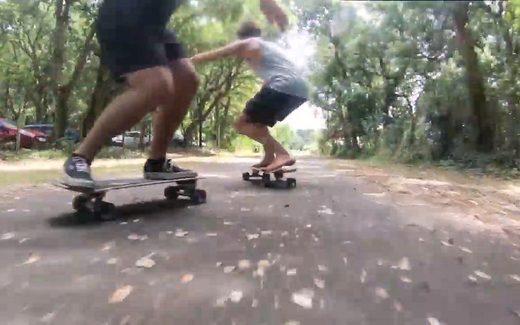 Activities Moliets - More Than Just Surfing
If all you want to do is surf, then no worries because there is free unlimited board and wetsuit hire available outside of your lesson times. Spend all day on the beach, perfecting your pop up and surfing from sunrise until sunset!
However, if you like to mix it up a bit and pack your holiday with variety, in addition to the surf and yoga lessons, there's many more activities to fill your holiday time in Moliets with! Our weekly program includes:
Saturday is our day of arrival and departure. In the evening, you'll get to know our team, each other and the most important information about our camp. Afterwards, we hand out the material for the week. If you still have energy, you can go to the local club L'Open for drinks and dancing.
On Sundays, we host a jam-session, which takes place at the lake. Everyone is welcome to sing along and bring their own instruments.
Every Monday, there is a liveband at L'Open, feel free to check it our with our team. Before that, everyone is invited to get into party mood with music and drinks at our camp.
On Tuesdays chill day.
Wednesdays, it gets sporty at our camp, because we host our volleyball tournament. Show us you skills in elimination and finals!
For an atmospheric sunset surf, we all go to the beach together Thursday nights.
On Fridays, our last night together, we have a goodbye party at the camp.
And just like that, it is Saturday again.
Furthermore, there's a football pitch, basketball and tennis courts, and ping pong tables on the campsite. We've got our own beach volleyball court too, and our own mini-ramp to skate. You can practise your balance on the slacklines between the pines, or just chill out in a hammock and relax. The options are endless!
Don't worry about getting bored in the evenings either. Our team put on a varied programme of events to keep you entertained! From cocktail nights to karaoke, from movie nights to volleyball tournaments, there is always something to get involved in! What's more, Moliets is famous for its parties! What often starts as a few post-surf beers, ends up as a 2am dancing session in local bar L'Open.