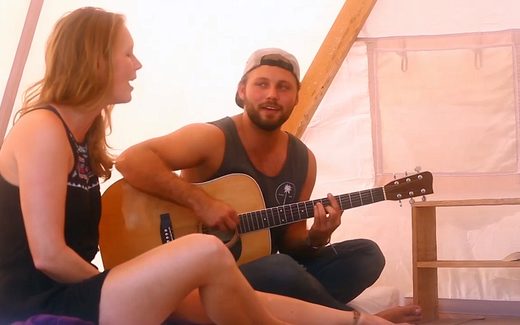 Accommodation Moliets - Just the best for you
You are going to find everything you need in our camp in Moliets. You're accommodated in spacious 2-men tents. Since there is only two people per tent, you have enough room to get comfortable and spread out. We kindly ask you to bring your own sleeping bag, Sleeping mat, pillows or whatever else you need to sleep well.
If you prefer you can rent a 10cm thick foam mattress for 12,50€ a week. For another 12,50€ you also get pillow, sheets and blankets from us.
New glamping tents for only 40€ more per week
Our cozy glamping tents have a wooden floor and are awaiting you with a mattress and clean sheets and bedding. All you need to bring is a good mood and a desire to surf and have fun! And this only costs you 40€ extra per night.
More than just sleeping at our Camp in Moliets
Besides the small tents to sleep in, we also have a number of other highlights at our camp. Our chef prepares the daily warm dinners for you in our kitchen tent. You can have these dinners, just like our delicious breakfast buffets, in our large dining tent, which turns into a party tent at night.
Furthermore, we have a station to rent out surf material like wetsuits and boards. Plus, you can play beach volleyball or table tennis any time you want or use our slackline, practice skating on our miniramp or jump on the trampoline.
So, all in all, you have plenty of space to mingle, relax, be active or rest as much as you would like. Our unique atmosphere will make your summer unforgettable!