SURF CAMP PENICHE from 365€
Surf Camp Portugal
Surf lessons, accommodation and surf equipment free to use.
Surf Camp Accommodation
Sleep in apartments for 2-6 people.
Surf Camp Catering
Fresh and healthy food in the morning and evening to perfect your performance on the water.
Surf Camp Yoga
Yoga lessons in addition to surfing. For better flexibility and muscle relaxation.
Surf Camp Activities
Lots of options like partying, Yoga, pool, skating, bike tour, volleyball, hiking, trips and more.
Surf School and Surf Equipment
Large range of equipment from boards to wetsuits to wax - all you need!
Surf Lessons
Multilingual and licensed surf instructors head to different spots around. Maximum eight people in one group to learn how to surf faster. Lessons include surf theory units.
Location and Beach Proximity
Only 20 meters walk to the beach and the closest surf spot. About one hour away from the city center of Lisbon.
Surf Holidays
Surf Camp bookable all year long. Minimum age 18 years. Average age 18-35 years.
Transportation and Arrival
Bus transfer can be added to the booking. Easy travel and cheap flights from all over Europe. Good connection from Airport Lisbon to the surf camp.
Surfing in Portugal
Have you been dreaming of surfing in Portugal for as long sa you can remember and want to make your dream come true? Then our partner surf camp in Peniche is the perfect place you've been looking for. It doesn't matter if you're a beginner, intermediate or advanced surfer. We will take you to the next level!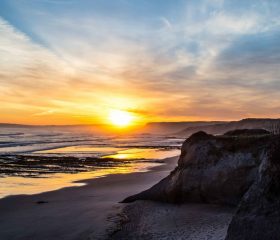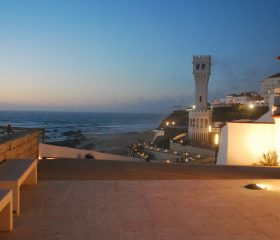 Portugal, and especially the tranquil region around Peniche, is one of the most popular travel destinations for surfers from all over Europe and the world. The long sandy beaches, the clear blue water and the rocky cliffs that are typical for Portugal offer a unique backdrop to surf Europe's best waves. The WSL World Championship Tour realized this many years ago, so the tour stops at Supertubos, the queen wave of Peniche, each year.
Besides being rich in waves, the region is also rich in culture. The old fishing town of Peniche is worth a visit for its colourful history, beautiful monuments and the famous medieval fortress. If you prefer big cities, Lisbon, Portugal's capital, isn't far away (only 80 kilometres south of Peniche).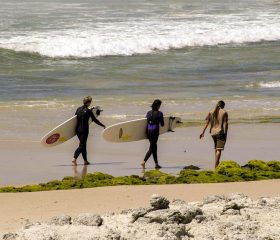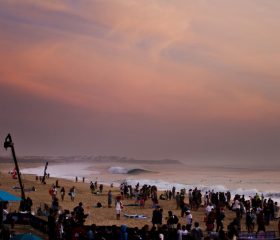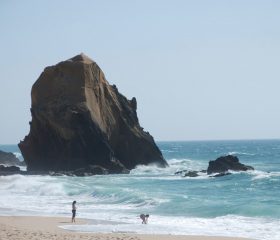 At Planet Surf, it's our philosophy to offer you the best surf lessons in Portugal. Our surf instructors, who are also trained life guards, are all experienced and certified so you don't have to worry about your safety or learning progress. We teach surfing in small groups of maximum 8 people, so that the instructor can keep an eye on everyone individually. Of course, you will learn surfing alongside people at the same level of experience as you to guarantee that the classes are not too easy or too challenging for anyone. Additionally, you'll have access to the best surfing equipment, which you will use during your classes and for free surfs.
Our surf camps are in two different locations – Peniche and Costa de Caparica - on the beautiful west coast of Portugal, which is often nicknamed 'Europe's Gold coast' for good reason. For the surf camp in Peniche, we offer you accommodation in comfortable 2-6 person apartments in Santa Cruz or in Peniche. The accommodation doesn't provide food, but there is a kitchen available for you. You are responsible for your meals, which gives you even more freedom to organize your time however you'd like. You'll find more information about the accommodation here. You can also choose between different packages at our surf camp and decide how long you'd like to spend with us. We are sure you'll find the package that suits you best here. Have a look!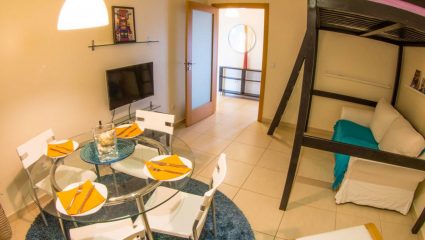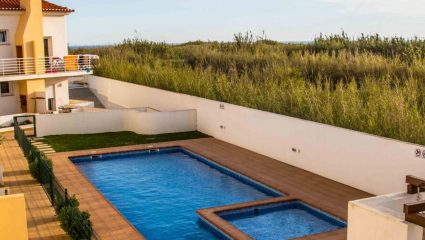 Enjoy surfing in Portugal!