Glamping alarm!
From the beginning of our season 2020, we have set up our comfortable and luxurious glamping tents with wooden floors for you!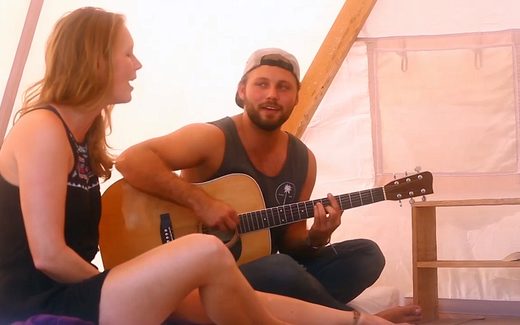 Accommodation Spain - Comfortable Camping
Our accommodation in the north of Spain is located on the beautiful campsite El Rosal, directly on the coast and only 80 meters from the beach in San Vicente de la Barquera, which is a perfect location for a surfing holiday in an intimate atmosphere. The campsite is run by Spanish people and always kept neat and tidy, just like the sanitary facilities.
Green areas with trees prividing shade make this camp perfect. This is where we built up a tented village for you.
You will share our spacious 4-men glamping tents with just one other person. Like this, you have plenty of space to spread out, make yourself at home and start every surfing day well rested. Especially now, that we have our new glamping tents with wooden floors at our camp! You can't have more luxury while camping!
You don´t need to bring anything, we offer you a mattress and bed sheets.
Other then the tents for sleeping, there is plenty more at our camp. Our chef prepares delicious meals for you in our kitchen tent. In our surf tent, you can find all the surfing material like boards, wetsuits, and much more. You can also rent the material outside of lessons. In our party tent, we relax during the day and party at night or just enjoy hanging out with each other and watch surf movies or DVDs. This is the perfect meeting point for all the people staying at the camp and thus gives you the opportunity to meet new people, make new friends and plan activities together. Our music system sets the mood for parties or chill evenings just hanging out.
You can always our sports equipment to let out all the energy you have left after the surf lessons, for example during a round of table tennis with your new friends. Our lovingly built up camps with a lot of attention to detail, will definitely give you the chance to feel comfortable and welcome and enjoy the perfect holiday!
If you want to get out of the camp, this is no problem - there are bars, restaurants and the beach very close to our camp in San Vicente de la Barquera. Come and see for yourself!