Food Canggu Berawa
In Canggu, there will be freshly prepared breakfast every morning, consisting of local ingredients to fill you up with good energy to start a day full of fun and surf. Do you follow a vegetarian, gluten-free or lactose-free diet? No problem, our cook will prepare a breakfast that suits all of your wishes. Once per week there will also be a BBQ, which you can join for just 10 euro.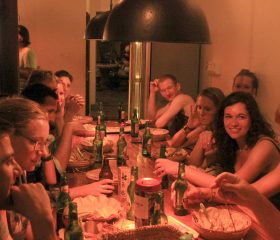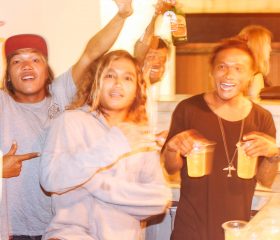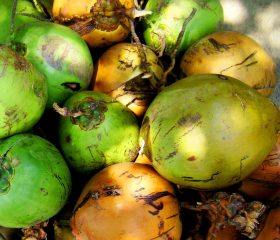 The town of Canggu itself also offers a variety of nice places to go out for some good food. Go for dinner or go get a quick snack in the afternoon. To give you some tips, here are some of our Planet Surf Food-Tipps for Canggu:
Surf Food Tipps Canggu
Dinner at Dandelion
Breakfast at Betelnut
Burgers at Deus Ex Machina
Vegan Food at The Shady Shack
A Budget Friendly Top Choice: Warung Bu Mi
Dinner at Dandelion
This place has a very special vibe to it. The traditional garden and the wood carved Joglo give the place a super relaxed and mystical atmosphere. The people that work here go out of their way to make you feel at home by addressing you with your name the whole night. Besides the food is not to be missed, with its authentic cuisine of great quality and is therefore definitely worth a visit.

Breakfast at Betelnut
Betelnut Café is the place to be for every surfer in search for a good satisfying breakfast. Whether you like to fill up before paddling to the line-up or need to recharge after a ripping surf session, this place got it covered. Betelnut serves food that is healthy and tasty, with their own twist. A must try!

Burgers at Deus Ex Machina
For all the burger lovers among us. This restaurant is named after the famous motorcycle manufacturer and will give you exactly what you expect. Big rustic burgers with lots of meat. Deus Ex is the perfect culinary culture clash bringing together the best of both Balinese and western cuisine. Don't miss it!

Vegan Food at The Shady Shack
For those who like to stay away from meat or any animal derived products or for those who just like to have a healthy satisfying meal this place is the place to go! The Shady Shack only uses natural plant based ingredients that will satisfy your taste buds and your hunger. A really good place that serves tasty, healthy and amazing looking food.

A Budget Friendly Top Choice: Warung Bu Mi
"Warung" is the ultimate example of a traditional Indonesian place to eat. Here you will find classic Indonesian dishes for very very small prices. For a full plate full of delicious Indonesian cuisine you only pay between 1 and 2 euros!