Activities in Bali
Canggu is known for its relaxed vibes and easy-going lifestyle, with at the same time a lively town full of things to do. The number of activities in Bali is varied and most of them are offered directly at the surf camp. Chill with a cool beer at the pool after surfing to relax your muscles. If you like to calm down from a ripping surf sesh in another way, why not go for a massage that is given to you right at the house. After this ultra-relaxing activity, you can take a nice nap in your nicely climatized room. To finish off the day, join us for a movie night in our outdoor cinema or indoors on our flat screens. If you still have energy left, you can rent one of the scooters for free and explore the surroundings.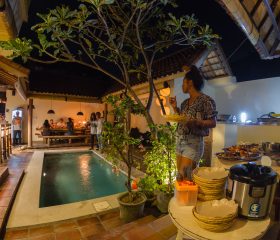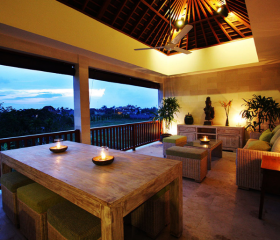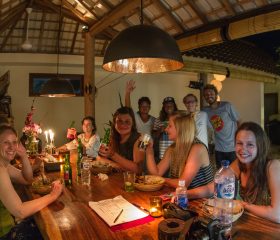 Feeling something a little bit more active? Join one of our yoga classes, which are taking place every morning from 7:30 till 8:30 and from 17:00 to 18:00 in the evening. This relaxing and strength building practice after the Vinyasa-Yoga tradition, will compliment your surfing in numerous ways.
Surfing makes hungry, and that is why we offer a fresh and homemade breakfast every morning to give you new revitalizing energy for the day. Don't forget to join our weekly BBQ for only 10 euros per person. This BBQ is filled with good food, drinks and good times and makes for an event definitely not to be missed.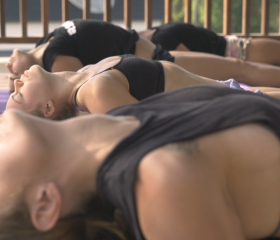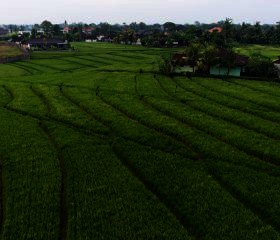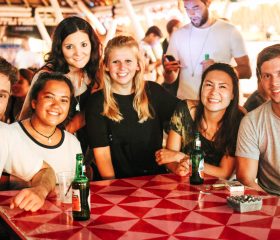 For those who are feeling adventurous there are several trips that can be booked at the surf house. Choose between three fun trips for a day full of adventure and exploration. Go snorkeling at the Menjangan island, take a trip through the mainland of the island or take an excursion and surround yourself with the mystical energies of the Tanah Lot temple, which is located on a rock formation off the coast of Bali.
Trips
Snorkeling Trip to the Menjangan Island
Excursion to Central Bali
Excursion to the Sea Temple Tanah Lot
Snorkeling Trip to the Menjangan Island
This very heavily praised excursion by Lonely Planet is a must see for underwater lovers. The trip of to get there of four hours, taking you through the West Bali National Park, may take long but each guest who has done the trip has said that the long drive is more than worth it. You will be dropped off at the coast in front of Pulau Menjangan and here you will be picked up with a boat that will take you to two very beautiful snorkeling spots. In these spots you can admire the reefs and all its life as much as your heart desires. The beauty of these reefs with its abundance of fish, underwater plants, coral and everything else that the ocean has to offer will take you to another world and will make you forget all your everyday worries. You will get two hours to explore the islands underwater world and to satiate your hunger after being in the water a delicious lunch will be served at the boat. Around 6 o'clock in the afternoon you will be back at the hostel.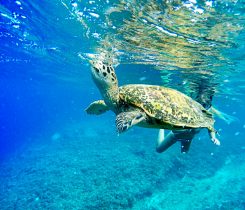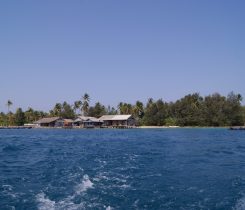 For this trip, please bring your swim suit, towel, sun block and some money for the lunch and shopping. Of course, don't forget to take your camera to document the highlights of that day. The weather and water conditions can have an influence on the driving route and the snorkeling spot. Although you don't need to worry, trust your guide, they have been guiding this trip for years and will make sure to make the most out of the day.
Costs: 45 Euro (Only when there are at least three people who signed up for the trip)
Excursion to Central Bali
On this day you will have a say in what adventures to take. There will be a program that will roughly say what the plan is, but there is room to implement your own wishes. The day will start between 7 and 8 o'clock and the first stop will be at Air Terjun Nungnung, a waterfall. The natural perfection of this waterfall will make you think you are somewhere in a dreamscape. Escape modern day world by standing under this 40-meters-tall astounding force of nature and give your shoulders a well-deserved massage.
The next stop is Kintamani Village at Gunung Batur, a 1717-meter-high active volcano. Let yourself be blown away by an incredible view, that will allow you to see until the south coast on clear days. Here there will be a restaurant where you can have a delicious lunch with a view over the Danau Batur sea and the volcano itself. On the way back, we will stop by the city of Ubud, where there will be more activities for you to choose from.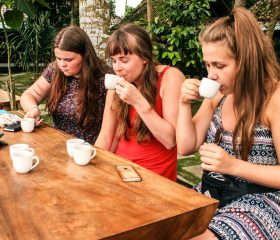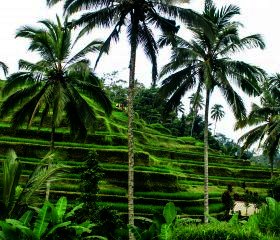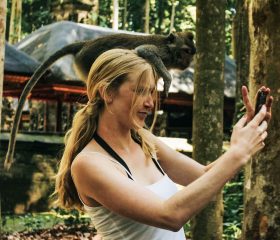 Visit, for example, the Monkey Forest, make a trip through the ricefields, take a look at the shops in Ubud, or another highly recommended sight is the Organic Luwak Coffee Plantation. Here you will learn everything there is to know about coffee, tea and other natural products. Talk to your driver and he will help you with your plans.
Costs: 25 Euro (The trip will only take place if there are at least two people who have signed up for it)
Excursion to the Sea Temple Tanah Lot
The trip will start at 4 o'clock in the afternoon, since it takes only 30 to 40 minutes to drive to the area in which the temple is located. This temple can only be reached over water with low tide. Entrance itself is only allowed for Hindus, but in front of the temple you can get a "Darshan", which is a Hindu-blessing. In this small ritual there is rice scattered on the forehead. The area around the Tanah Lot can be explored for hours and the best sunset view can be found at the restaurant on the hill. After some delicious food you will be brought back to the surf house.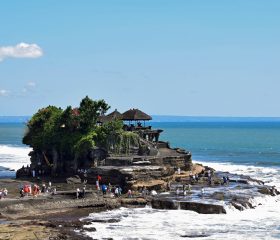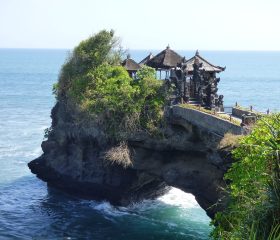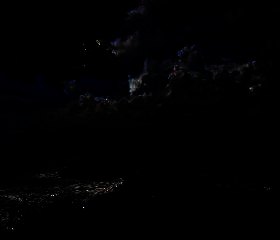 Costs: 10 Euro (this excursion only takes place if there are at least three people who signed up for it)