Surf Camp Ericeira - Surf holidays in Portugal - starting at 330 €
Surf Camp Ericeira
Surf lessons, accommodation, surf equipment included.
Surf Camp Accommodation
Double and shared rooms at the surf camp villa or private accommodation.
Surf Camp Catering
Breakfast can be booked separately. Fully-equipped shared kitchen and BBQ to cook your own meals. Additionally there are special dinner-events at least once per week.
Surf Camp Yoga
Daily yoga lessons as a perfect addition to surfing. For more flexibility and muscle relaxation.
Surf Camp Activities
Numerous possibilities ranging from yoga and tennis to hikes, Jeep- and bicycle-tours to wine tastings and excursions to other cities. And many more!
Surf School and Surf Equipment
Wide range of surf equipment. Can also be used outside of the surf lessons for a small fee.
Surf Lessons
Multi-lingual and licensed surf instructors teach small groups of max. 6 students at different surf spots depending on the conditions. Private lessons are available, too. The surf courses also include some surf theory.
Location and Beach Proximity
Only 2 minutes by foot from the beach. Approx. 45 minutes from Lisbon's city center.
Surf Holidays
Surf camp is open all year. Minimum age is 18.
How to get there
Short and cheap flights from all over Europe. Airport in Lisbon can be easily reached from the surf camp. Airport shuttle can be booked.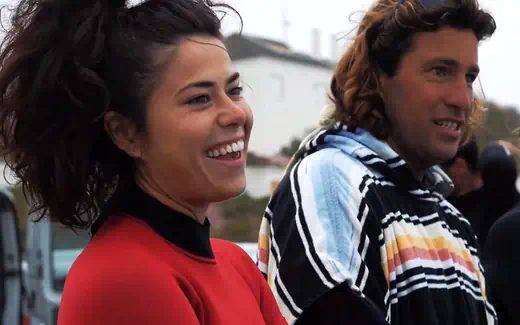 Welcome to Ericeira, Portugal's surfing capital!
In 2011 Ericeira was added to the very short list of World Surfing Reserves, which is a kind of nature reserve for waves and the surrounding area. It is the only one of its kind in Europe and one of the very few in the whole world. This old little fishing village is not only very pleasing to the eye due to its beautiful beaches but has world-class waves on offer, too. These attract free surfers from all over the world all year around as well as pro surfers, who come to Ericeira to battle it out during surf competitions, which are held here regularly. This is one of the reasons why Ericeira is the inofficial surfing capital of Portugal. And how could it not be? Throughout 8km of coastline there are more than 15 surf spots offering perfect conditions for any type of surfer. Beginners can practice their fundamentals at the beachbreaks of São Julião and Foz do Lizandro while the experts try to get barreled at the famous reef breaks like Coxos and "The Cave" (Warning: these spots are highly dangerous and only for very experienced surfers!).
In addition to it being a very relaxed surf town with a laid-back atmosphere Ericeira also gives you an authentic glimpse into the charming, traditional Portugese lifestyle. Aside from the beautiful scenery this includes the delicious Portugese food which you can enjoy in the numerous restaurants in downtown Ericeira. Afterwards you can burn the excess calories on the dancefloors of Ericeira's bars and clubs.
Doesn't sound too shabby, does it?! So, what are you waiting for: come by and surf Portugal's amazing waves with us.
Our biggest concern is that you feel at home at this partner surf camp of ours, which has a maximum capacity of 16 guests. As a result the atmosphere is very laid-back and cozy, creating the perfect surroundings for you to focus on your surfing as well as Ericeira's other wonderful facets, as well. Since our surf villa is located in a very central yet quiet area it doesn't take more than a few minutes by foot for you to reach supermarkets, restaurants, bars and most importantly of all, the beach, which is literally only 2 minutes away.
If you still feel the desire to be active after surfing, you can choose from the vast array of activities that we offer. You can play tennis or squash, go climbing or for a hike or even learn how to dive. In case you actually did leave all your energy in the water during the surf lesson you can take part in yoga, enjoy a massage, check the surf conditions from our seaview terrace or just enjoy the sunset after a nice day of surfing.