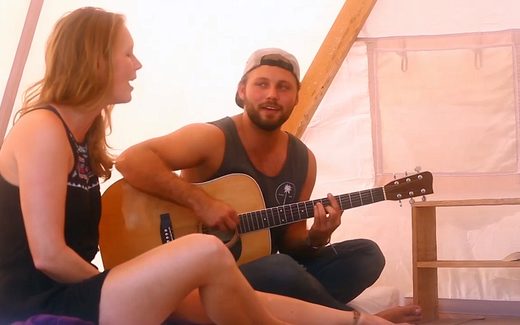 Accommodation Junior Surf Camp Moliets, France
A surfer's paradise with many features
Our spacious 2-men tents with matress at our Junior Surfcamp Moliets which you'll only share with one other person are perfect to have sweet dreams about surfing. With this, you'll have plenty of room to spread out and make youself at home. Even though the tents are already waiting for you here, we kindly ask you to bring your own bedding, like a pillow, sleeping bag.
New glamping tents for just 40€ extra per week
Our new glamping tents have a wooden floor and await you with a mattress and bedding. You don't need to bring anything but a good mood and a desire to surf and have fun. And all this for just 40€ extra per week!
Besides the tents to sleep in, we have a lot of other areas in our camp. Our camp chef cooks your daily meals in our kitchen tent, which you can then enjoy in our large dining tent, where we also serve our delicious breakfast buffet.
Additionally, you can find all the surf material in the area designed for this. After surfing, feel free to relax in our chill tent, where you can mingle, read, listen to music or hang out with your new friends. If you still haven't had enough physical activity during a day of surfing, you can always use our volleyball court, play table tennis or practice skating on our own miniramp. 
Our sanitary facilities are open 24/7 and are very close to our camp. There are enough showers, sinks and toilets for everyone and there is always hot water, as well.
We are looking forward to have an amazing time with you in our Junior Surf Camp in France and hope you are excited to see what is waiting for you here!